There is no better way to get acquainted with the pristine beauty of nature in Norway than a sea cruise through the Norwegian fjords. Almost all cruise lines in summer include cruises on the fjords of Norway in their schedules. During the cruise ship's entry into the fjord, breathtaking views open from its decks. Waking up in the morning and going out on the balcony of your cabin you will see a sight that will be undoubtedly remembered for a lifetime.
When it is better to go
Sea cruises on Norwegian fjords on large ships are carried out from May to September included. But even within this short period the weather is very different. We do not recommend buying a cruise on the Norwegian fjords with an exit before June. May is a rather cold time in Norway, many hiking and driving routes may still be closed for winter. On the other hand, cruises on the fjords of Norway in May are the cheapest. The rest of the time the weather is about the same, but it should be taken in consideration that weather can be cool and rainy in Norway even in July.
What you can see
Choosing a cruise on the Norwegian fjords is always a compromise between its cost and the route. The most interesting routes go to the Arctic Circle, to Lofoten and Svalbard. They are the most expensive.
The cheapest fjord cruises are usually limited by visiting big Norwegian cities: Oslo, Bergen, Stavanger. You can take land excursions in this ports, for example, a trip on the Flom railway from Bergen. But in such cruise itineraries you pay more attention to urban life and the history of Norway than nature.
Choosing a Norwegian cruise we recommend you to know all information about the itinerary, the list of ports and fjords the ship will enter. If you plan to make hiking trips in ports count the ship stay time carefully. For example, to visit the famous Preacher's Pulpit Preikestolen (pictured below) from Stavanger you need a stay at least 8 hours.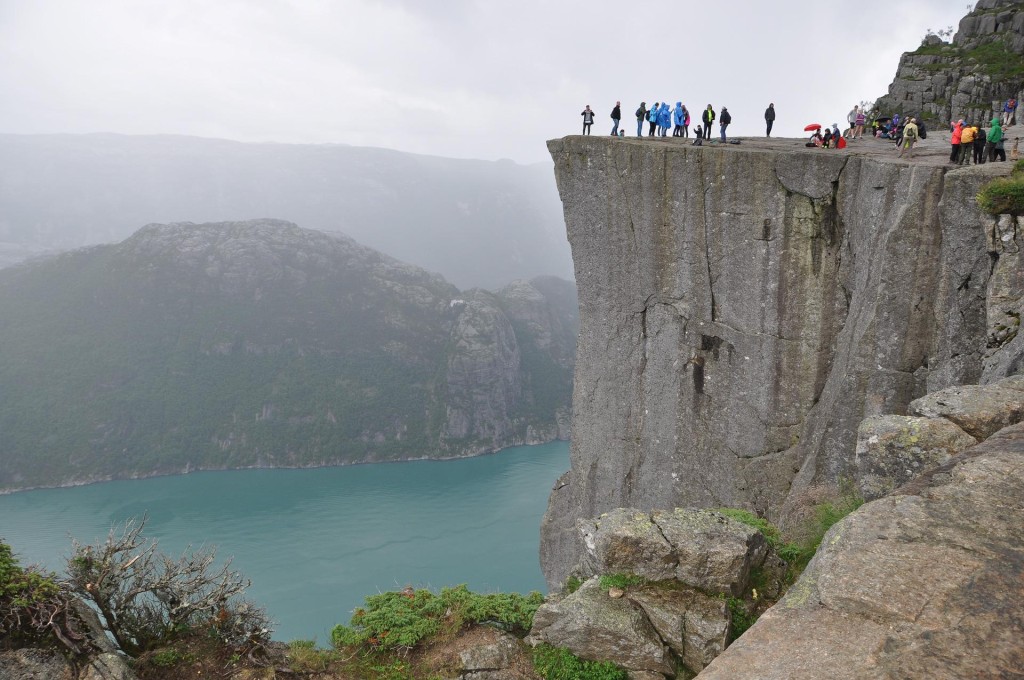 Prices for cruises on Norwegian fjords
As we mentioned, the price of a fjord cruise greatly depends on destination. The cheapest promotional prices are 40-60 euros per day per person in the inside cabin. A week-long cruise in this way costs about 350 euros. But such prices are very seldom for this region. Although, if you set a goal and monitor the offers on our website you can catch such a price. The regular average price is 90-100 euros per night on a cruise per person. Interesting routes with rare ports start from 150 euros per night.