All the cabins on board can be opened by touching a special panel with a cruise card. To provide electricity in your cabin you should insert the card into the slot. All the ship cabins are equipped with a TV, a telephone, a safe, and an air conditioning system. You can also find bathrobes and slippers packed in bags in the wardrobe. There is a shower cabin, a magnifying cosmetic mirror, and a universal 120v and 230v socket in every bathroom. Some cruise ships have cabins where a toilet is located separately from a shower cabin.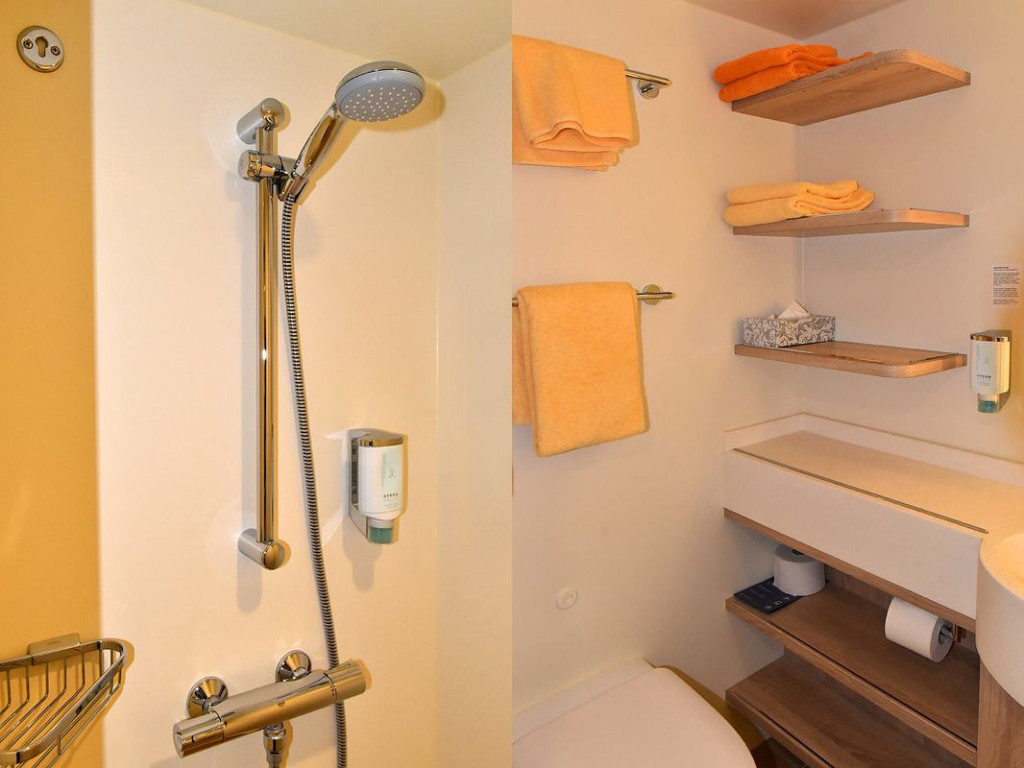 Bathroom at the cabin of one of the AIDA cruise ships

Liquid soap contained in the bathroom dispenser can be used as a shower gel and shampoo as well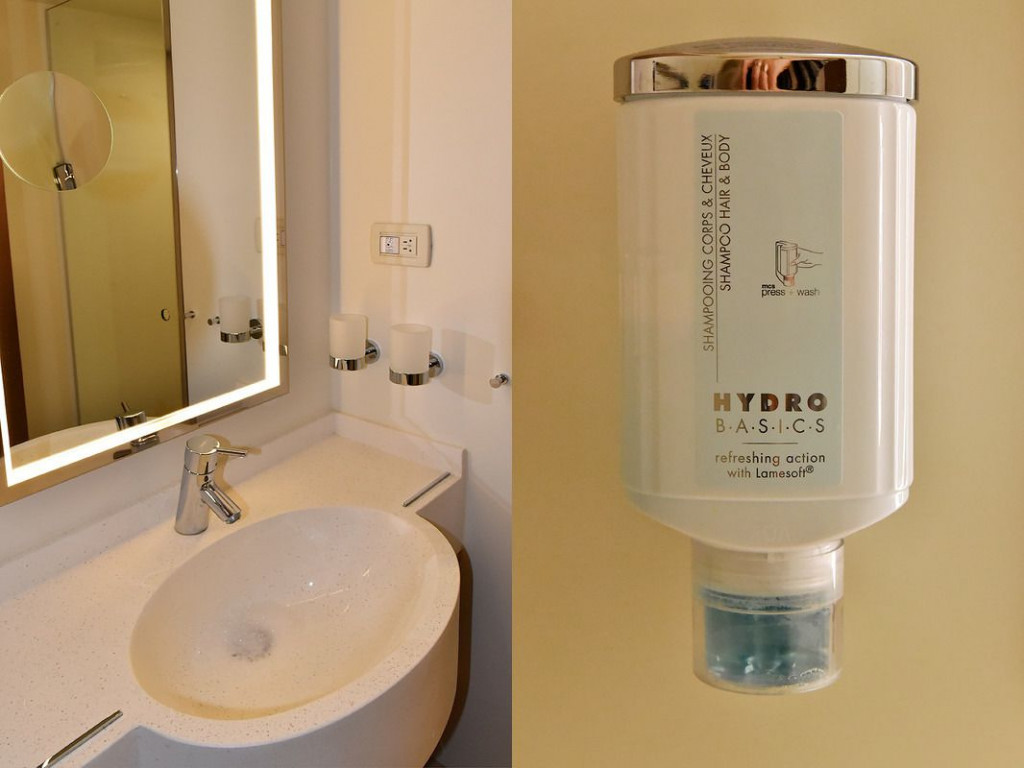 Liquid soap dispenser in the bathroom

Cabin cleaning is carried out only once a day before lunch. You can find this information in the special information sheet. It is not worth waiting for immediate cleaning as it is on the cruise ships operated by other cruise lines where, for instance, you have not left your cabin for breakfast yet, whereas it had been already cleaned. The situation is different on the board of AIDA Cruises ships and you have to be ready for this.
AIDA Cruises Tariffs
The AIDA cruise can be booked according to the following tariffs:
​VARIO tariff peculiarities:
- deposit amounting to 35% when booking a cruise;
- unavailability to choose a cabin location;
- rebooking, cancellation, and change of a cruise have to be additionally paid for.
PREMIUM tariff peculiarities:
- deposit amounting to 20% when booking a cruise;
- selecting a cabin location is available;
- two free one-liter bottles of water daily (with gas and without gas);
- the CD with the video about the cruise as a gift;
- 250 MB or one hour of free Internet;
- a one-time free change of reservation is available.
Gastronomy – Food on board
The cruise cost includes all-inclusive meals as well as low-alcohol drinks only during lunch and dinner time such as beer, and wine (both red and white). There is a carafe of water and red wine at the tables at all the restaurants, and you can also ask the waiter to bring you a carafe of white wine. You can get some beer from the beer tower yourself or ask a waiter to bring it.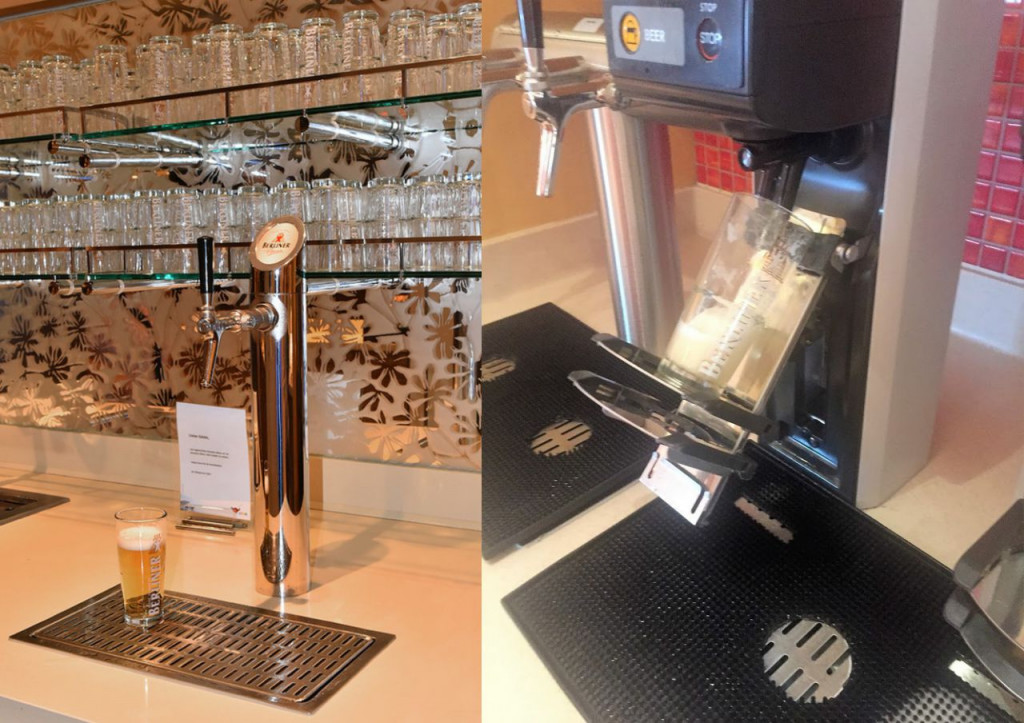 Beer tower at the AIDA restaurant

During the buffet restaurant working hours, juices from the machine (orange, apple, and grapefruit) as well as carbonated drinks, coffee, water, and a huge selection of tea (brewed and packaged) are available.

Drink station and the tea corner at the AIDA cruise ship
Most AIDA Cruises ships have several buffet restaurants. All of them have a very diverse assortment of dishes served and different working hours. Restaurants serve European, Oriental, and Asian cuisine. You can find the signs reminding you about hand disinfection located in front of the restaurant whereas farther, at the entrance of the restaurant, the dispenser containing disinfectant liquid can be used.
Breakfast
During breakfast time, the restaurants offer you a variety of fruits (bananas, pears, apples, kiwis, peaches, tangerines, melon, strawberry, coconuts, grapes, etc.), as well as vegetables, and various yogurts and flakes. You can also find a lot of pastry, cold appetizers such as salmon, approximately ten kinds of cheese, and meat plates. As the main dish, you can have scrambled eggs, pancakes, fried bacon, boiled eggs, both hard-boiled and soft boiled as well as sausages and sandwiches.


Buffet at the AIDA cruise ship
In general, the range of meals served for breakfast looks as follows:

The variety of salads and appetizers served during the day is impressive: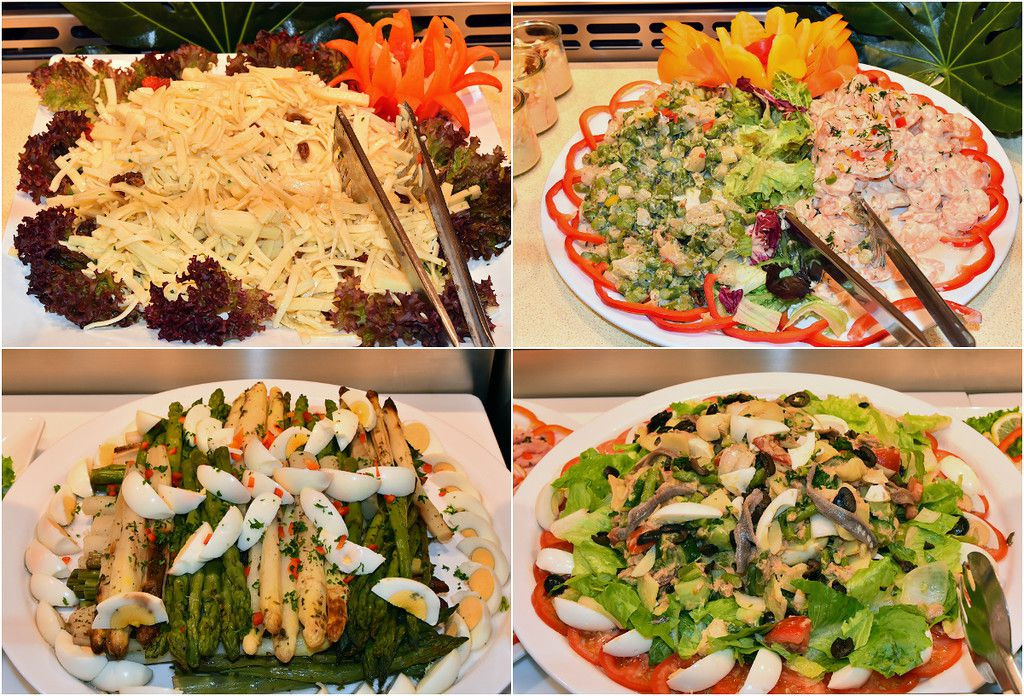 All this has a beautiful presentation:

Lunch and Dinner
The choice of hot dishes during lunch and dinner time is wide: seafood (shrimps, snails, mussels, octopuses), stewed vegetables and meat, spaghetti with seafood, grilled chicken, barbecue, sausages, the assortment of fish, rolls, dumplings, cabbage rolls, risotto, and many others.

You can find a variety of desserts nicely presented as usual: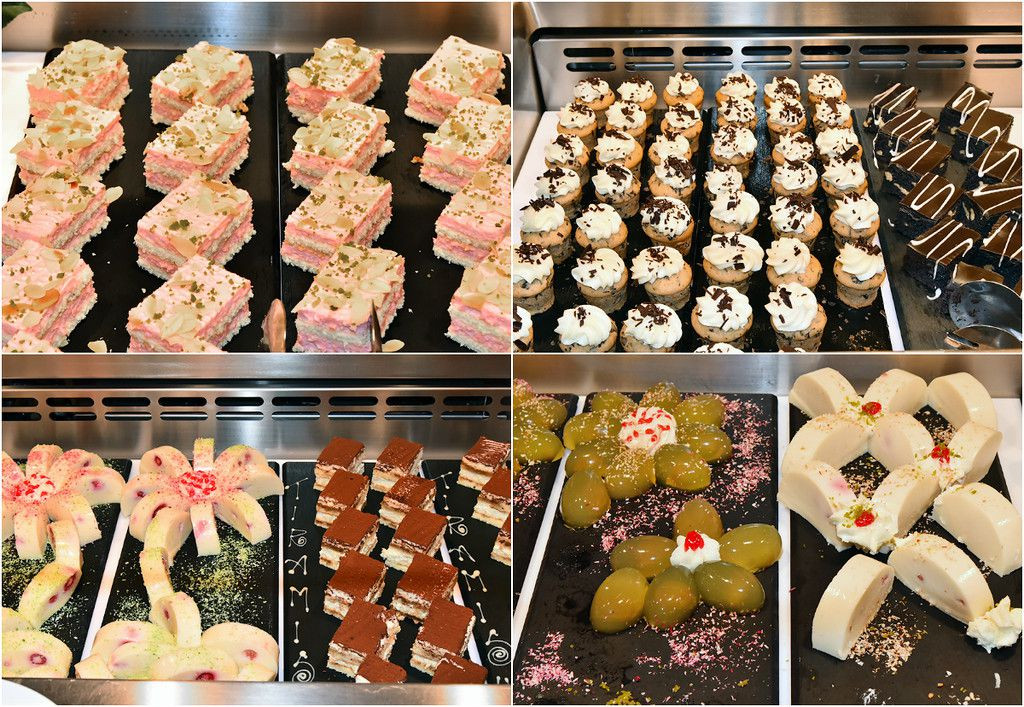 You can be offered several kinds of ice cream which can be added by nuts, dried fruits, shredded coconut, or chocolate.

There are also days when caviar is served at cruise ship restaurants. Its serving can also be accompanied by salmon and lobsters.

The tables at the restaurants are mostly large, intended for four, six, or eight persons. It is customary to join people sitting at the table if there are seats available having preliminary asked permission. There are also tables for two people but they are few. In addition to the buffet restaurants, there are a la carte restaurants at the AIDA Cruises ships but all the beverages there are to be paid for, even the water. The table should be reserved in advance as there may not be free tables at the required time and the day.
There is an original presentation of dishes in the restaurant of oriental cuisine, for instance, you put some pieces of raw fish (several types), meat (chicken, beef, turkey), vegetables, mushrooms, seafood (shrimps, mussels, squids) and then take them to the special stand having preliminarily chosen sauce, and get a beeper instead. In addition to the stand intended for independent composition, there are hot dishes, salads, and appetizers.

While the main restaurants are closed for a break between lunch and dinner, you can visit the buffet restaurant where hamburgers, pizza, french fries, and snacks are served. You won't find a lot of hot dishes and yet desserts and fruits are served there too. The filling for the hamburgers can vary, so you can make an order, get the beeper, and, voila, in five minutes have your personal hamburger!

À la Carte Restaurants at AIDA Cruises Ships
All the beverages (including water) are to be extra paid for at the à la carte French restaurant. You can order an appetizer including several kinds of pâté and meat and sausage plate, seafood soup, fish, beef stewed in wine sauce, and others. The kids' menu is available as well.
Brauhaus restaurant-brewery is open for lunch and dinner. German cuisine is served there and is represented by sausages, pork steaks, knuckles, and a duck. All the above mentioned is included in the cruise cost as well as water that you can always find on the tables, whereas all the other drinks have to be additionally paid for. You can order three kinds of beer 100 ml each on trial which will cost 3.50 euros. During the cruise, the brewery arranges various celebrations and holidays which you can be informed about from the daily newspaper issued on board.

Dinner at the AIDA Brauhaus restaurant
AIDA Cruises Onboard Entertainment
If you go on a cruise with AIDA Cruises you will never get bored during your amazing trip. Numerous kinds of entertainment can satisfy even the most demanding guests.
Water Activities on Board
Each AIDA Cruises ship is equipped with at least two swimming pools and several jacuzzis. The pools are comparatively small on most cruise ships. Deck chairs located near the swimming pools and on the sun deck are available for free. You can also take a towel there, having 15 euros blocked on your cruise card. Your funds will be unblocked when you return the towel.
Swimming pools on AIDAprima and AIDAdiva cruise ships.
The new AIDA cruise ships such as AIDAprima and AIDAperla are equipped with a water park where you can also find the children's area and recreation area with deck chairs. There is also the rope park above the water park under the dome representing the path with obstacles of various levels of complexity. It is free of charge.

Water park at AIDAprima and the rope park at the AIDAperla cruise ships
Gambling on Board
There is a casino on each cruise ship of AIDA Cruises. As a rule, it starts working half an hour after the departure and is open until the last customer. While in port, the casino is closed. In Germany, casinos are legal, therefore passengers are not interested much in gambling. Smoking is forbidden in casinos.

Casino at AIDAbella and AIDAprima cruise ships
Cultural Life at the AIDA Cruises Ships
Numerous entertaining events are arranged on the board of all the AIDA cruise ships daily such as parties in various styles, shows, musicals, and open-air discos. There are theatres on each ship some of which are located in the very center of the cruise ships which is not entirely usual, you see. The theatre can offer you a variety of music, circus, and humorous performances which are not repeated during the cruise.

Theater on AIDAluna and AIDAprima cruise ships
Sport and Wellness on Board
All the cruise ships of AIDA Cruises are equipped with gyms, SPA-centers, and saunas of several kinds, such as hammams, Roman saunas (thermae), and Finnish dry sauna. You can also find changing rooms and towels with unlimited access there as well. It should be taken into account that the sauna is shared by men, women, and children. However, according to the German tradition, visiting it wearing swimsuits is not welcomed. In addition, all the cruise ships are equipped with specially dedicated areas for nudists. People wear bathrobes while visiting the communal area. In the afternoon, you can visit the sauna free of charge whereas, in the evening, you will have to pay for it. Some cruise ships are equipped with the paid SPA-area called Oasis Wellness which will cost 20 euros per day. There are soft sofas and a huge SPA bath installed in the SPA area. You can also buy energy drinks for slimming at the gym.

Gym on AIDAvita and AIDAprima cruise ships

OASIS WELLNESS SPA-area on AIDAmar and AIDAsol cruise ships
Shopping on AIDA Cruises Ships
There are numerous shops on AIDA cruise ships that offer you a variety of goods, such as clothing, perfume, bags, sunglasses, jewelry, watches, AIDA branded souvenirs, kids' toys, and many others. You can find even flower shops and shops selling souvenirs and postcards as well as sportswear shops on some of AIDA's cruise ships. The shops are closed when in port.
Additional Services
There is a self-service room for washing and ironing clothes on each AIDA cruise ship. You can pay for the service using your cruise card, all you need is to insert it into the particular device, select the machine, and the washing mode required.

Laundry room on AIDA cruise ship
The beauty salon and the library where you can find a shelf with puzzles and educational games are available on board as well.
Excursions
Shore excursions are not included in the cost of the cruise. You can book them in advance or (in case of free places availability) purchase them on board. You should keep in mind that all the excursions will be held only in German.
Internet
Wi-Fi is available in the cabins, in the communal areas as well as on the open decks. When connecting to the Internet, the MyAIDA website will appear, to get access to which you have to enter the following information: your last name, the number of your cabin, and the AIDA PIN which is specified in your travel documents. Select the required tariff and click "Purchase".
The free App MyAIDA is available onboard informing you about the cruise daily program, ports of call, the latest news, decks plans, your cruise account, etc.
Tips (Gratuities)
Tips (or gratuities) are included in the cost of all the cruise tariffs. You do not have to pay anything additionally.
Smoking on Board
Smoking on board is allowed only in specially designated zones, such as the open deck, all the balcony cabins, and the Anytime bar. Throwing cigarette ends overboard is strictly forbidden.