The distance between Abu-Dhabi and Dubai is insignificant, and you can cover it for an hour. Thus, if your cruise starts in Dubai, arriving at one of Dubai's airports is unnecessary. You can choose Abu Dhabi airport for arrival if it will be cheaper. In case you arrive from Europe, it will likely be cheaper because the hub of WizzAir, the low-cost carrier, is based in Abu Dhabi.
In this article, I'm going to provide you with detailed instructions on what to do if the airport of your arrival is in Abu Dhabi, whereas your cruise starts at Rashid Cruise Port in Dubai. These instructions work vice versa as well if you get from Dubai's cruise port to the airport. If your cruise ship departs from another Dubai port (Dubai Harbor, for instance) this instruction will be useful too, in my opinion.
Taxi
The simplest and most comfortable way to get from Abu Dhabi Airport to Port Rashid is, of course, a taxi. The travel time amounts to 1.5-2 hours, and the cost is 350-400 AED (90-100 euros). Therefore, if there are 3 of you or more, a taxi represents a reasonable and inexpensive choice. And yet, if there are less than 3 of you traveling by public transport you can significantly save your budget.
Public Transport
We recommend that you put in 3.5 hours or more for the whole route. The travel time depends on how you will be able to set behind the schedule of the buses and how fast you can navigate in the city (you will have a lot of transport changes). If you miss the required bus you will have to wait another hour (that's what happened to me). Besides, if you arrive at night when the metro in Dubai is closed, you will have to spend the night at the Airport waiting for the morning to come (this variant was mine as well). But first things first.
The whole route consists of 3 parts:
Getting from Abu Dhabi Airport to Dubai by a bus shuttle (the bus runs to Ibn Battuta metro station)
Getting by metro (through the whole of Dubai) from Ibn Battuta metro station to Al Ghubaiba station (closest to Port Rashid)
Getting from Al Ghubaiba to the cruise terminal on foot or by taxi.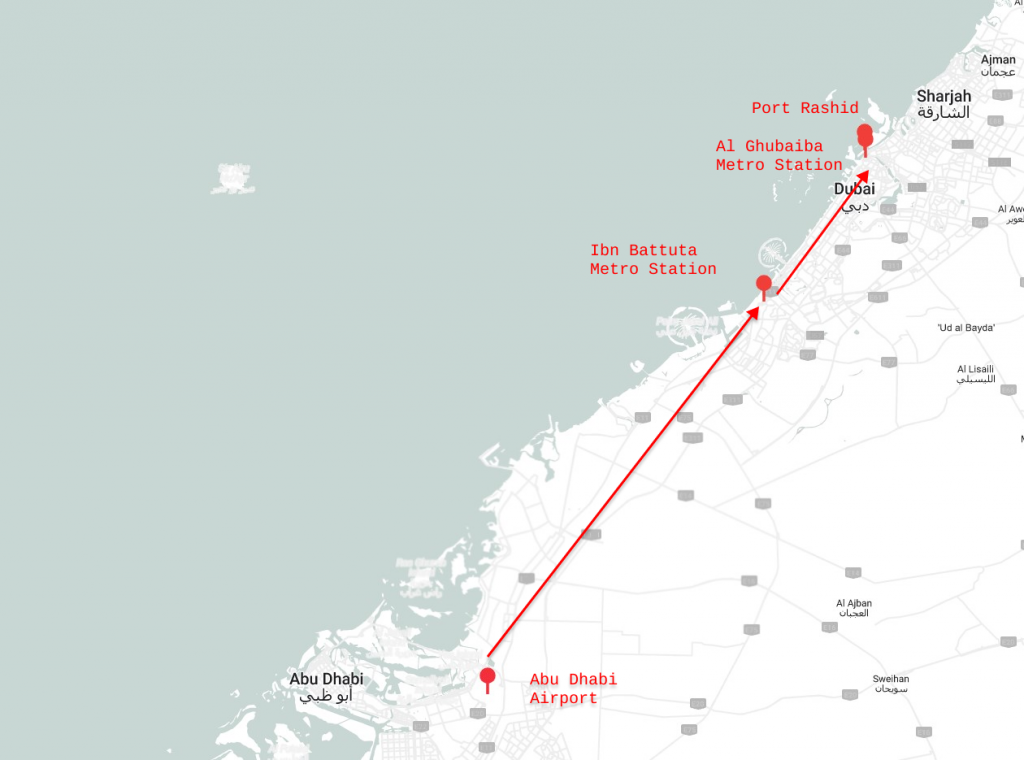 Part one: from Abu Dhabi Airport to Ibn Battuta metro station
A comfortable bus shuttle runs to Dubai directly from Abu Dhabi Airport. It departs every hour, 24 hours a day. That is why no matter when you arrive, even at night, you will be able to get to Dubai and spend the rest of the night there. When the morning comes, you can continue your trip and get to the cruise port.
The exact schedule of a shuttle can be found at
Abu-Dhabi Airport's official site
. You should keep in mind that it departs from the main T1 and T3 terminals at the beginning of each hour, for instance, at 00.00, 01.00, 02.00, etc.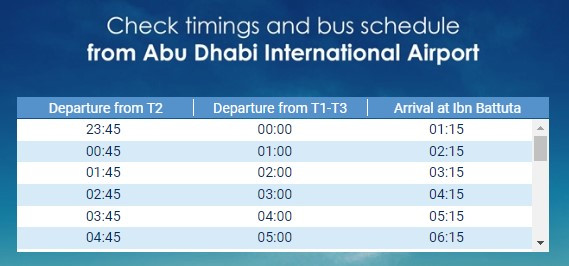 It runs without stops and arrives at the final station (Ibn Battuta metro) in 1.15 hours.
After that, we have to change to the metro and go to Al Ghubaiba station, the closest one to Port Rashid.
If you arrive at night and the metro is already closed you can stay for a night right here, at the
Premier Inn Dubai Ibn Battuta Mall hotel
. It is inexpensive (by Dubai standards) and a comfortable hotel conveniently located. The bus from Abu Dhabi Airport drops passengers off directly in front of the hotel entrance, so you have to cross the road. I arrived at night so it was here I had to stay.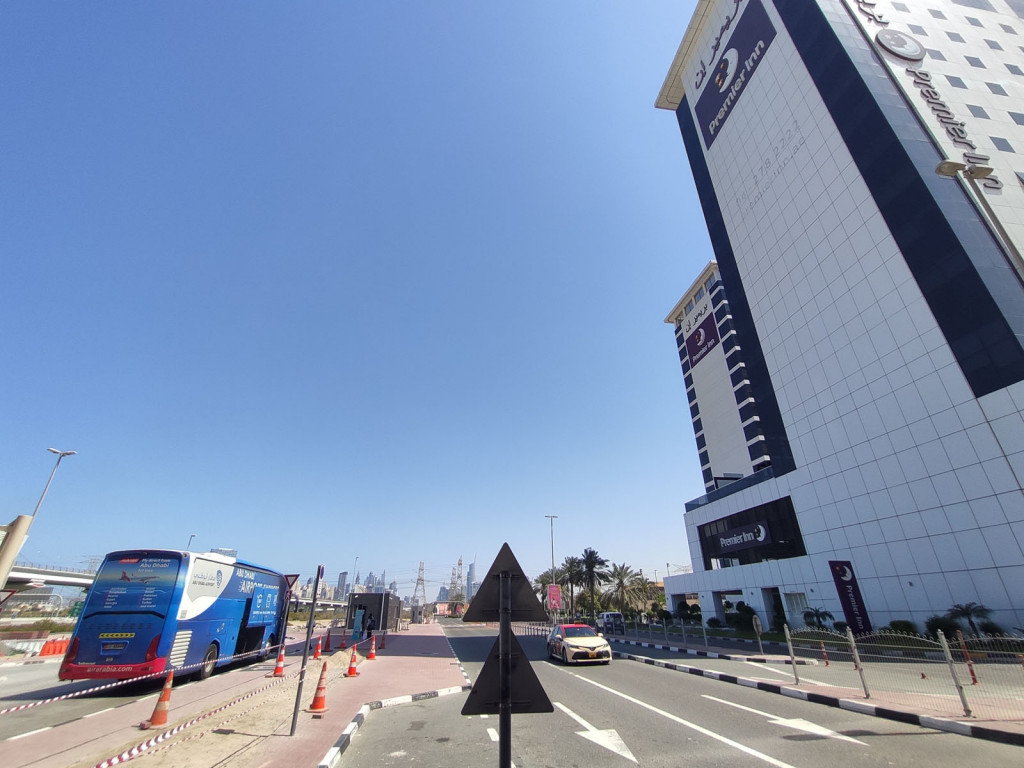 Premier Inn Dubai Ibn Battuta Mall hotel and the stop of the bus running from Abu Dhabi Airport

Dubai's metro is open all weekdays:
Monday - Thursday: from 05:00 to 01:15
Friday - Sunday: from 05:00 to 02:15
Sunday: from 08:00 to 01:15
Where to buy tickets for a bus shuttle
Tickets are sold at the exit of the arrival area of Abu Dhabi Airport (see picture). You can pay for the tickets using cash or a card. The ticket costs 35 AED (9 euros).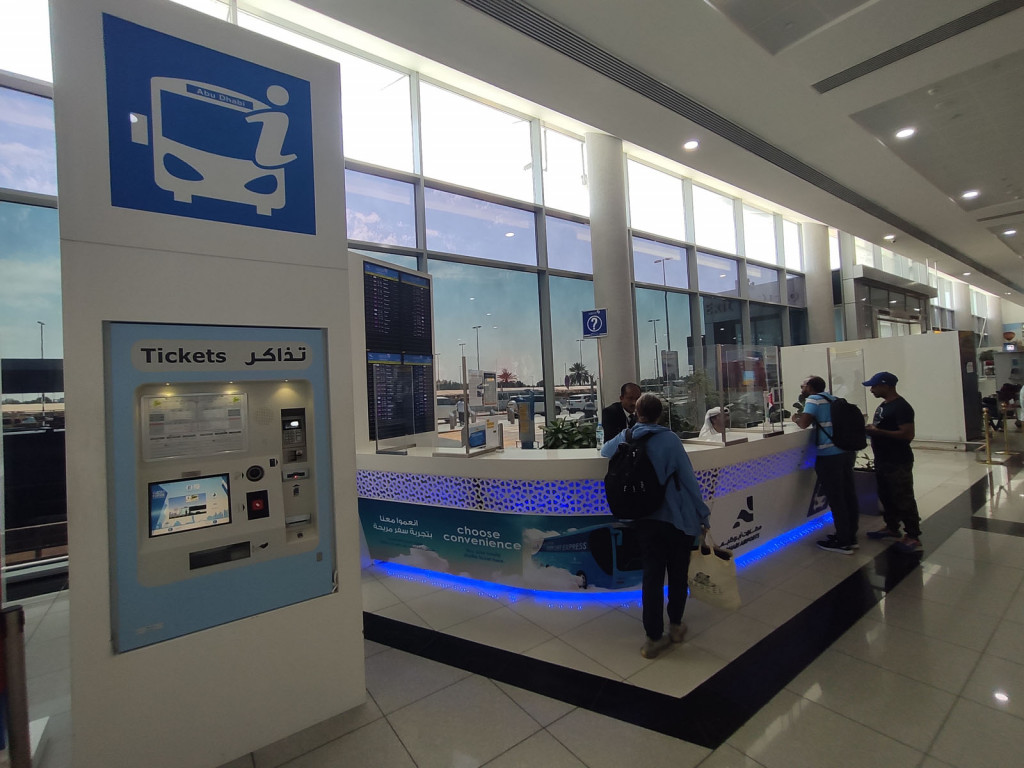 Ticket selling desk at Abu Dhabi Airport
Life hack: in the foreground, you can see a ticket machine selling transport cards for Abu Dhabi. If your cruise itinerary implies entry of your cruise ship to Abu Dhabi, I recommend that you buy a transport card right here as it will be unavailable in the Abu Dhabi cruise port. It is easy to leave the port of Abu Dhabi using public transport (the bus stop is practically near cruise ships), but the problem is that you can not buy a transport card there. Dubai transport cards do not work in Abu Dhabi as well, as they belong to different transport systems. You should take care of it in advance.
Part two: By metro from Ibn Battuta station to Al Ghubaiba
Well, you got to Ibn Battuta station from the airport. Then you have to go by metro through the whole of Dubai to Al Ghubaiba station. The trip takes a little bit more than an hour. You have to make 2 changes during the trip.
It sounds complicated enough but in fact, it is not so. Changes are fast, and it is easy to navigate. You don't have to leave the subway - you should buy one ticket for the trip. A single ticket for such a trip costs 8 AED (approximately 2 euros). Ticket-selling machines can be found at the metro station. Select Single Ticket and enter the name of the station where you are intended to go, Al Ghubaiba.
What stations you should change at
Google Maps
will inform you. Enter the route between Ibn Battuta and Al Ghubaiba and follow the instructions.
First of all, follow one stop to Jabal Ali Metro Station and change to the red line
Then, you should travel 16 more stops along the red line to Burjuman station and change to the green line
Go 2 stops more along the green line to Al Ghubaiba station
At the final stop, you should come out from the metro carriage to the left to get to the taxi stand. If you go to the right you won't be able to find it.

Part Three: from Al Ghubaiba to the cruise terminal
Unfortunately, it is where the Dubai public transport opportunities end. It is impossible to get to Port Rashid by public transport. You can make it only on foot or by taxi.
It takes about 40 minutes to get there on foot but I don't recommend that you do it. It is located very far and it is hot outside. Taxi from Al Ghubaiba station costs 15-20 AED (4-5 euros) per taxi meter, which is perfectly reasonable.
Dubai's official taxi looks as follows: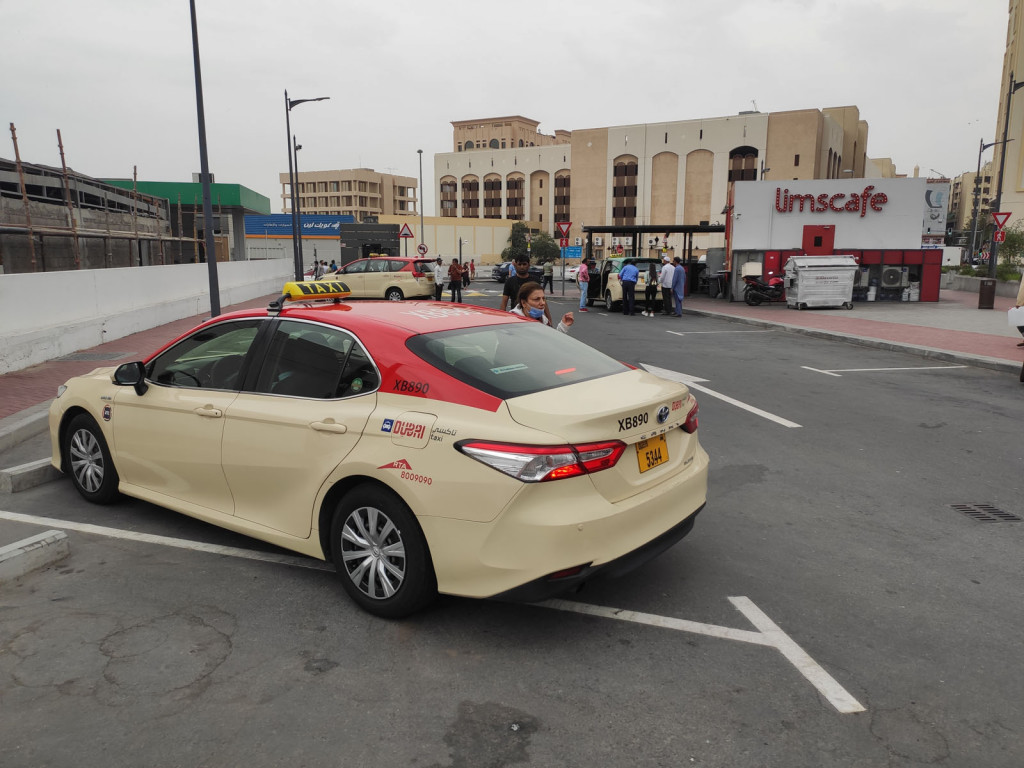 Be sure to ask for a taxi driver to switch on the taxi meter and take it under your control. Actually, taxi drivers do not like to get orders for such short distances, so some of them may try to apply a fixed price for the trip to the port. It can be so as well, and yet, you should know the real price of such a trip which is 15-20 AED. If you don't have local currency with you, ask whether the baking terminal works or not. It is allowed to pay for the taxi with a card in Dubai. But it is another hack used by cunning taxi drivers to pretend that the terminal is out of order to round up the amount of cash in dollars or euros which is a lot more.
Return route
If your cruise ends at Port Rashid and you have to go to Abu Dhabi airport follow the same way, in reverse order. The following details should be taken into consideration when traveling in the opposite direction.
Getting in a taxi in Port Rashid costs 20 AED
It means that this amount will be indicated on a taxi meter a the moment when you get in a taxi. The cost of travel to Al Ghubaiba station will be added to it (15-20 AED). Thus, the travel cost to the opposite direction will be twice as expensive, 35-40 AED (9-10 euros).

Find the right stop for airport shuttles at Ibn Battuta station.
My mistake was that I came out of the metro, saw an empty shuttle (without a driver inside), and some people waiting nearby. It turned out that this bus shuttle was just standing, whereas a shuttle that I needed simply left for the airport. Thus, I lost an hour until the next shuttle came.
There is a large bus stop complex near the Ibn Battuta metro station. There are always a lot of city buses, many of which go to Abu Dhabi, so it is quite difficult to understand. There are also special personnel aiming at managing streams of people, but they rather confused us than helped.
The right bus stop of shuttles going to the airport is located in front of Premier Inn Dubai Ibn Battuta Mall Hotel (see photo). In the foreground, you can see a space where tickets are sold. You can wait for the next bus shuttle there as well (it is air-conditioned). The Premier Inn Hotel is in the background, and the bus stop as well as airport shuttles are on the right side.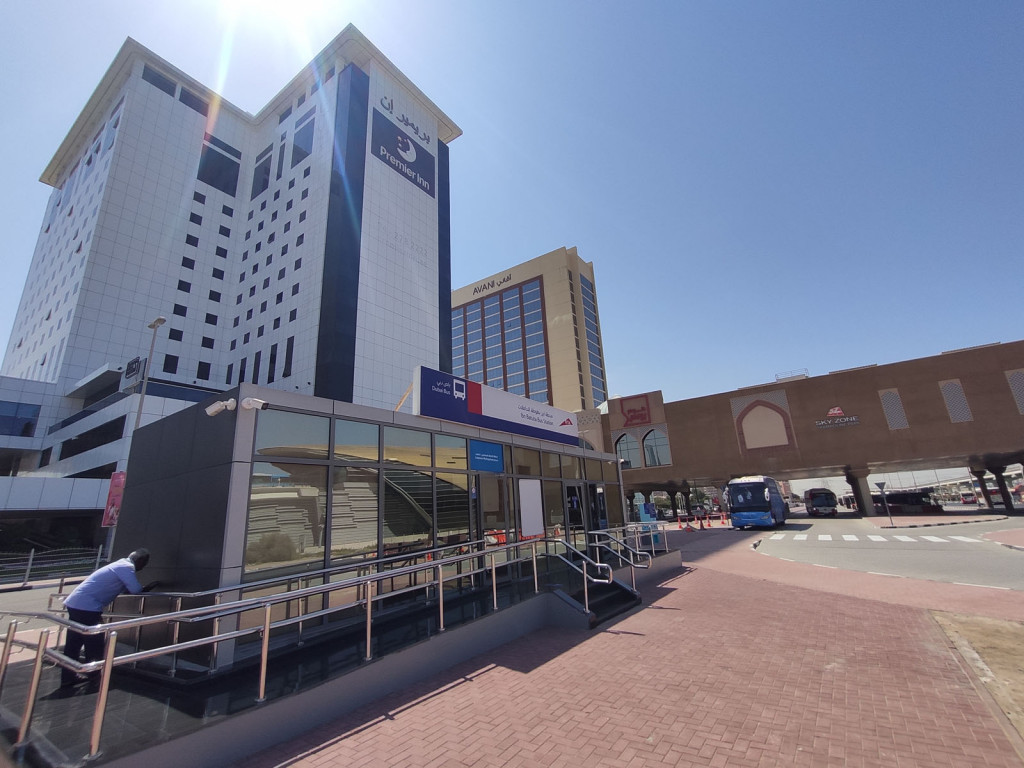 Summary
The cost of the whole trip from Abu Dhabi Airport to Port Rashid or back using the following way of transportation amounts to 60-80 AED (15-20 euros) per person whereas a taxi costs 90-100 euros. Thus, if you are talking about 1 or 2 persons, the savings will be quite decent. If there are 3 of you or more, I think, it will be better to take a taxi.
The time spent for the whole trip from the cruise ship to the airport is as follows:
we left the cruise ship at 9 in the morning
we came out at Ibn Battuta station at 10.50
we have not found the bus stop and missed the bus shuttle to the airport that left at 11.00
we left for the airport using the next bus at 12.00
we were at Abu Dhabi airport at 13.20.