MSC Cruises is owned by the Italian Mediterranean Shipping Company (MSC S.A.) and takes second place in the world in terms of container traffic. The company's fleet today consists of 18 cruise ships. The MSC Cruises company makes cruises in Europe, the Caribbean region, South America, South-Eastern Asia, off the African coast, and the Indian Ocean.
The company takes 4th place in terms of passenger turnover in the world and is focused on the tourists of all the age categories whereas children very often travel for free at all sharing a cabin with their parents. Service charges (tips) and alcoholic drinks are not included in the cost of the cruises.



Accommodations on MSC Cruises Ships
Cabins on the MSC Cruise ships are divided into 4 main types.
Interior Cabins
The standard interior cabin's size is 13-16 square meters. The main sleeping accommodation implies two twin beds put together or left separately. Additional sleeping places represent pullman beds. Usually, there is a mirror on the bed headboard for a visual increase of space. Every inside cabin has an armchair and a small coffee table.

Interior cabin on MSC Preziosa and MSC Musica
Oceanview Cabins
The standard oceanview cabin size amounts to 15-18 square meters. Please pay attention that the window in such a cabin can not be opened. The main sleeping accommodation is the same as that of the interior cabin, i.e. two beds which can be joined together, and additional sleeping places representing the pullman beds. Every cabin of this type has a small coffee table, an armchair, and a sofa.

Oceanview cabin on MSC Musica and MSC Armonia
Balcony Cabins
The size of balcony cabins is equal to 15-22 square meters whereas that of a standard balcony amounts to approximately 3-4 square meters. You can find two deck chairs and a table on your balcony. A convertible sofa represents additional accommodation in such a category of a cabin. Double cabins can also contain an armchair instead of a sofa.

Balcony cabin at MSC Preziosa and MSC Orchestra
The sizes and shapes of balconies can vary depending on cabin categories and locations. You should take it into account when selecting a cabin.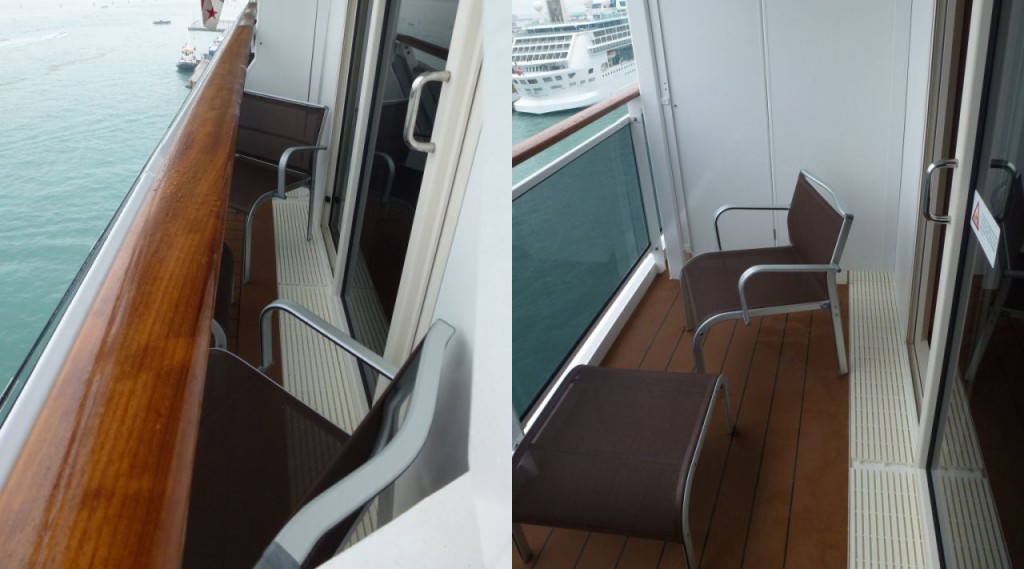 Suits
The size of a suit varies from 24 up to 105 (65+40) square meters. It can be both with a balcony and without it, and contain some rooms, whereas a suit bathroom can have a shower or a full-sized bath depending on the cabin category.

Royal Suite at MSC Divina and Deluxe Suite at MSC Splendida
Cabins Equipment
Every cabin is equipped with an interactive TV, mini bar, telephone (not only for calling the reception or other cruise ship services but also for connection with other cabins), a safety deposit box, a hair dryer, and an air conditioner. The temperature in every cabin is regulated through an individual thermostat. In addition, you can also find a sewing kit (needles, thread, buttons, and pins), a pen, paper for notes, the Bible, glasses, and postcards which can be sent home from the cruise ship (for an additional fee).
There are 220V and 110V outlets in the cabins, and an additional socket can also be found in the bathroom.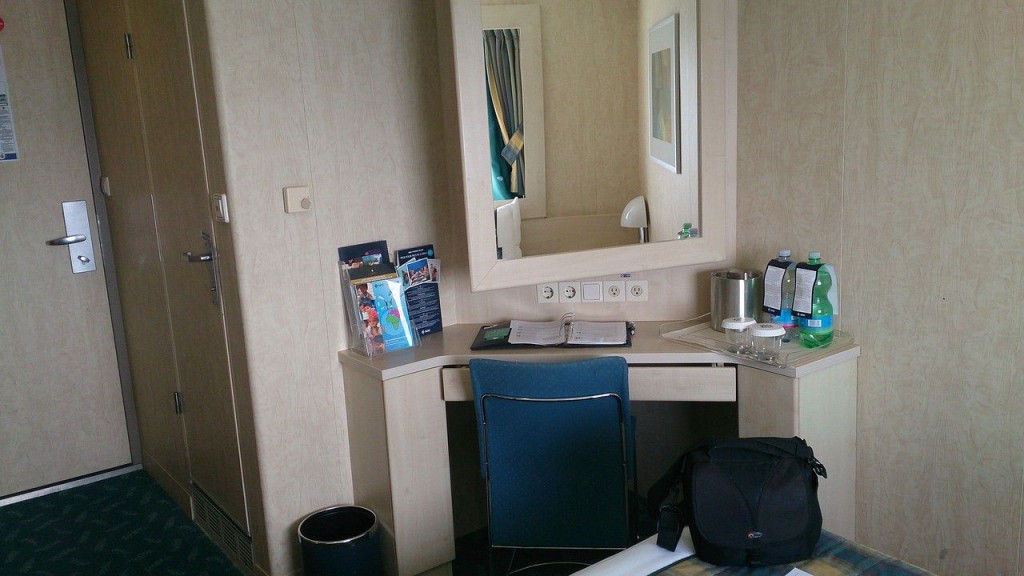 Bathrooms are equipped with dispensers containing shampoo and shower gel so you don't need to take them on your cruise.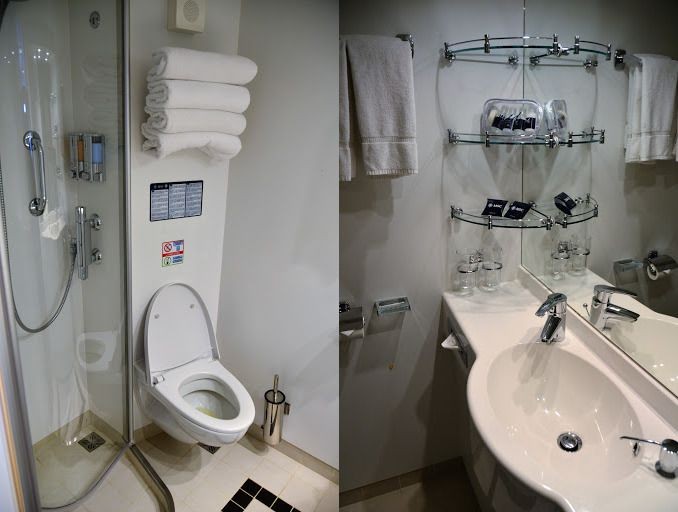 As you can see in the photo, towels, shampoo, shower gel, and a separate tap containing liquid soap on the washbasin as well as some bath accessories such as shower caps on the shelf are available as well. To the right of the showerhead, there is an extending rope for drying swimsuits and lingerie.
Categories of Cabins on MSC Cruises Ships
Each cabin type can be attributed to a definite category that influences a cabin location and can have extra services included in the cruise cost as well as other advantages.
Bella Category
Interior cabins belonging to the Bella category can be located on lower decks, on the stern, or on the ship's bow;
Bella category window cabins can have a limited view blocked sometimes by the ship's boat. When booking a cabin pay attention to its location. In most cases, such a cabin is located on the lower deck;
Balcony cabins of the Bella category can also have a limited view because of a boat under the balcony or be located on a lower deck of the cruise ship.

Bella category window cabin having a limited view

Fantastica Category
Fantastica category cabins are usually located in the middle part of a cruise ship provided that Bella category cabins on the ship are located on the stern or the bow. If we speak of an upper deck it can be entirely used for the Fantastica category cabins.
The advantages of this cabin category are as follows:
Opportunity to choose among the best available cabins while purchasing a cruise;
Availability of breakfast order to your cabin (breakfast and delivery are included)
Priority choice of the dinner seating time in the main restaurant;
20% discount on special packages in alternative restaurants when booking a cruise
AUREA Category
Only balcony cabins and suits can be attributed to the Aurea category. They are always located on the upper decks of a ship. Advantages of this category are:
Priority boarding and disembarkation
24-hour room service (free delivery of dishes which have to be additionally paid for)
Welcome gift (Aneri Prosecco + Venchi chocolate)
Option to have dinner at a convenient time in a designated area of the restaurant (My Choice)
Access to an isolated area, Top Exclusive Solarium
Bathrobe and slippers in the cabin
Pillow menu
Access to Aurea SPA area
40% discount on SPA packages when booking a cruise
10% discount on some definite SPA treatments being bought on board
Meals on Board of MSC Cruises Ships
The cruise cost includes the meals in the main restaurants of the cruise ship including à la carte service for breakfast, lunch, and dinner as well as the meals at the restaurant served in the buffet style and is open from 6 in the morning up to 2 in the night. Coffee machine drinks, tea, water, ice, and cream are available for MSC Cruises ships passengers round the clock. During the buffet breakfast, some kinds of juice from the machine and milk are also available. Alcohol and soft drinks are not included in the cruise cost (except for the cabins belonging to the Yacht Club Category). All the drinks including mineral water served in the main restaurant are chargeable.

Breakfast
Breakfast is served in the main restaurants from 07:00 up to 09:30 and at the buffet (from 06:00 up to 12:00). Breakfast time can vary depending on the MSC Cruises ship.

Buffet breakfast at the restaurant
You can also have breakfast without leaving your cabin. This service is available free of charge for the passengers choosing MSC Yacht Club, Aurea, and Fantastica cabin categories. For passengers of the Bella category, this service is chargeable. To order breakfast in your cabin you have to fill out a special form and hang it on your cabin door handle.

Cabin breakfast


Lunch
Lunch is served at the restaurants from 12:00 up to 14:00 and at the buffet restaurant from 12:00 up to 16:30. Lunchtime can vary depending on the cruise ship.


Your salad can be dressed with oil, vinegar, or sauce (you can always find a rich choice on special stands).


Dinner
Dinner is served in the main restaurants at two seating times (according to the so-called Classic system) for instance at 18.00 and 20.30. Besides, on MSC's new cruise ships alongside standard two-seatings-dinner the Flexi system is offered according to which you can choose one from 15 available variants of your dinner start within the period from 18:00 до 21:30. Passengers of the Aurea category don't have to choose the seating time in advance, it is their free choice (My Choice), and the reservation of a table for a definite suitable time is required.


As an alternative to the main restaurant, you can have your dinner in the restaurant serving buffet dinner, or in the pizzeria having avoided fixed shifts and table reservations.
Kids Menu and Other Useful Info
Kids menu is also available for breakfast and dinner in the main restaurants including a menu for children from 6 up to 12 years.

The buffet offers you various thematic corners, for instance, a pizzeria, grill, "takeaway", health corner, Mediterranean salumeria, meat corner, etc.

Please, pay attention! The prices in the bar are added by a 15-percent service charge.
Recently, the main restaurant where you can have breakfast or lunch à la carte has introduced a novelty. Today, alongside ordering dishes from the menu the buffet option is available. The variety of dishes is the same as that served on the upper deck at the self-service restaurant. This option allows to reduce significantly crowds upstairs and makes à la carte service much faster.
In addition to the main restaurants and buffet, MSC Cruises offers a wide variety of alternative specialty chargeable restaurants serving Mexican, Japanese, Chinese, and Thai cuisine, as well as sports bars, pizzerias, and many others.
Entertainment on the MSC Cruise Ships
Going on a cruise with MSC Cruises company you can be completely sure that you will have an amazing time on board.
Swimming on Board
All the MSC cruise ships have at least two swimming pools and some jacuzzis. All the swimming pools located on the sun deck are equipped with deck chairs which are available free of charge. Deck chairs are not available for reservation so you should not leave your belongings on them when leaving the swimming pool area. In case you leave your things for more than 30 minutes personnel will have to take them and bring them to the reception. There are beach towels in every cabin of MSC Cruises ships. After using, the towels have to be returned to your cabin otherwise, the cost of the towel can be put into your cruise bill. You can also take the towels right at the swimming pool. There is sea chlorinated water in the pools on board.

Swimming pools on MSC Preziosa and MSC Divina cruise ships

Swimming pools on MSC Armonia and MSC Musica cruise ships
Some MSC cruise ships have modern aquaparks. For instance, there is a 120-meter-long water slide located on deck No.18 of the MSC Preziosa cruise ship. The nine-meter-long part of this slide is transparent and, what is most surprising, is located not above the deck but right above the open sea. There is a large open water park on MSC Meraviglia connected with the two-story indoor amusement park.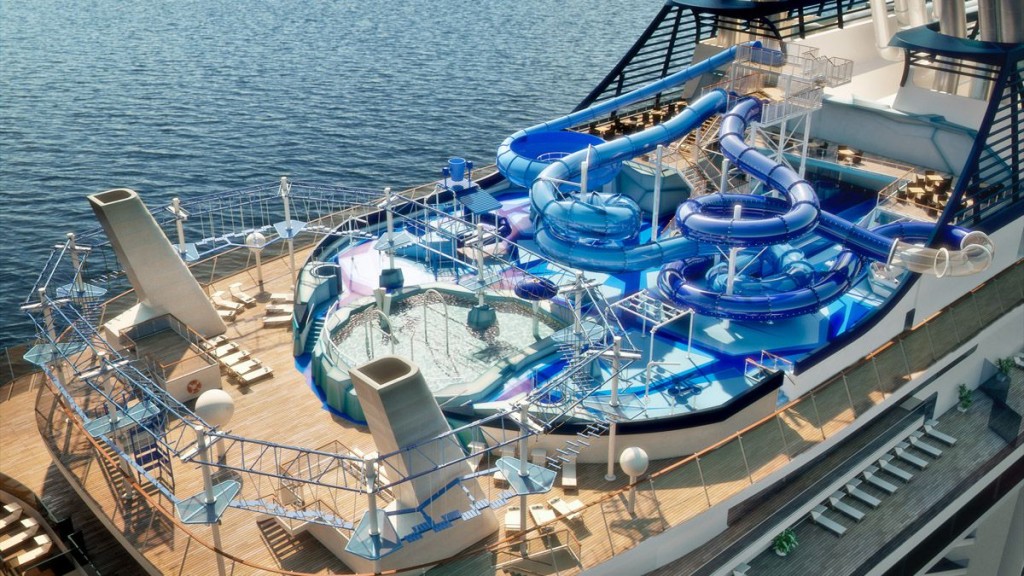 Water park on MSC Meraviglia
Keeping Fit
There are fitness centers on the board of all the MSC's cruise ships and they are free of charge. Most gyms have various cardiovascular training equipment such as treadmills, elliptical machines, exercise bikes, etc, as well as strength training and weight equipment, and enough space for group training. As a rule, the more modern the cruise ship is, the higher the technical level of its equipment is as well. Of course, conditions in gyms vary, and yet there are water coolers, towels, as well as individual TV sets on cardio equipment almost everywhere. Very often services of a personal coach in a gym are available so you will be able to have individual training at an additional cost.

Fitness center on MSC Splendida and MSC Armonia
As a rule, gyms and SPA zones share dressing rooms where you can find lockers, bathrobes, towels, showers, as well as dispensers containing shampoo and shower gel. Sometimes free-of-charge saunas and steam rooms are available in gyms as well. It should be noted that most cruise ships require that you have sports shoes to have access to the gym. By visiting the SPA center you can enjoy various types of massage, face, and body care, and have manicures and pedicures made. SPA center services are not included in the cost of a cruise and have to be paid additionally.
In addition to the fitness center, cruise ships have sports courts for doing various kinds of sports activities such as playing basketball, tennis, mini-football, volleyball, golf, etc.

Sports court on MSC Splendida and MSC Musica
Gambling on Board
All the cruise ships of the MSC cruises line have casinos offering the most popular games of the world-famous casinos suiting all the gamblers irrespective of their experience. You can place bets up to 2000 euros a day if your credit card is tied to your cruise card. In case of a cash deposit, you can bet all the amount. The casino is open half an hour after the cruise ship departure and up to the last client. While in port casinos are closed.

Casino on MSC Splendida cruise ship
Other Ways to Spend Leisure Time
Numerous entertaining events are organized daily on all the cruise ships such as dance classes, quiz games, master classes, ballroom dancing classes, aerobics, music games, as well as evening theatrical performances. They take place in two shifts (for those who have their dinner later, at 19:00, and at 21:00 for the guests whose dinner is during the 1st seating). They are not repeated at all within a week-long round cruise. You can find out the time and the place where an event is to take place by consulting a special daily newspaper. In addition to this, a Formula-1 simulator, 4D cinema, and bowling can be found on the MSC cruise line ships.
There are Cirque du Soleil shows on MSC Meraviglia and MSC Bellissima cruise ships created specially for MSC Cruises. A unique "Merry-go-round" zone has been designed for this show representing a double-deck theater hall, having a total area of 1000 square meters and seating up to 400 spectators.
Entertaining Small Travelers
A special animation program has been worked out for small passengers of the following age categories:
Mini Club, for children from 3 up to 6 years old;
Juniors Club, for children from 7 up to 11 years old;
Young Club, for children from 12 up to 14 years old;
Teenagers Club, for children from 15 up to 17 years old.
Numerous games and activities are offered, for example, chess, checkers, modeling, painting, team games, and many others. Lessons and activities can take place inside or outside. During cruise ship stay, children are also provided with various activities and entertainments while their parents have been on an excursion. There are rooms specially designed for smaller children worked out in collaboration with Chicco company on board. Mini Club gives you an opportunity to make reservations for baby carriages, baby carrier backpacks for excursions, and other useful devices. You can also rent a digital baby's bottle warming device in some bars. Parents can also use bottle warmers in their cabins having made a request at the reception.

Mini Club on MSC Armonia and MSC Sinfonia cruise ships
Shopping
There are Duty-Free shops on all the MSC cruise ships which start operating after cruise ship departure whereas during the stop in ports they are closed. You can buy alcohol, cosmetics, candies, clothes, child's toys, watches, jewelry, bags, and clothes produced by world brands there. The MSC brand shop is available on all the MSC Cruises ships where you can buy souvenirs and gifts with the company's logo.

Additional Services
There is a medical office on all the ships of MSC Cruises company where a wide variety of drugs is available. And yet we recommend that you should have your own medicine suiting you. All the medical services are chargeable on board.
Shore excursions are not included in the cruise cost. You can order excursions onboard in such languages as English, French, Italian, Spanish, or German.
Going on a cruise on MSC ships you have an opportunity to have your clothes washed and ironed for additional payment. You can find a bag for dirty clothes in your cabin (inside the wardrobe or drawer). You have to put your clothes inside the bag and leave it for a steward to take them when cleaning your cabin. You should preliminary fill out a paper form and specify what things and in what quantity have to be washed. If the bag is taken in the morning your clean clothes are usually returned the next day. The cruise line does not bear responsibility for shrinkage, color stability, state of zippers, as well as belongings left in the pockets. Please learn some available variants: washing and ironing of 10 pieces are 15 EUR, and washing and ironing of 20 pieces of clothing are 25 EUR. Self-service laundries are unavailable on MSC Cruises ships.
Internet on Board of MSC Cruises Ships
Wi-Fi onboard is available in all public areas, and in the cabins of course. The latest app MSC for Me is available on all the cruise ships allowing the passengers to make reservations of tables in the restaurants, learn the program of the day, sign up for massage, order breakfast in the cabin, and pave the way to a definite place onboard, as well as check where a child currently is, make payments, etc.
Gratuities
Service charge (gratuities) is not included in the cruise cost of MSC Cruises and is subject to the additional payment. All the passengers in the cabin have to pay for it. The service charge is withdrawn daily from your onboard account. The more detailed information concerning its amount can be found
here
.
Smoking On Board
Smoking is prohibited in all the cabins as well as on all the balconies. In case of violation of this rule, or detection of smoking traces inside your cabin or on the cabin's balcony, you will be imposed a fine amounting to 70 EUR.
Smoking is allowed in some bars located on every cruise ship and on one of the sides (marked) of the open deck near the main swimming pool where ashtrays are. Throwing cigarette butts overboard is strictly prohibited.