The official name of Costa Cruises in Italian is Costa Crociere S.p.A. The company was founded in 1854. Today it represents one of the cruise lines owned by Carnival Corporation & plc enterprise.
Costa Crociere is the largest company in the Italian tourist industry as well as the cruise line number one all over Europe. The company's fleet consists of 11 cruise ships. The company carries out cruises in the Mediterranean, Northern Europe, Baltic Sea, Caribbeans, Central and South America, Persian Gulf, Red Sea, Indian Ocean, and South-Eastern Asia.
Costa owns three cruise terminals located in the ports of Savona, Barcelona, and Tianjin. The company is focused on a broad audience with average incomes, for instance, on families with children, as they often travel for free in their parents' cabins. Moreover, service charges (gratuities) and alcohol are not included in the cost of Costa cruises.
Costa Cruises Accommodation
There are 4 types of cabins on the Costa cruise ships:
Interior cabin
Oceanview cabin
Balcony cabin
Suite
Interior Cabins
The standard interior cabin's size amounts to 13-14 square meters, whereas the square of a single cabin equals 12 sq. m. The main sleeping places are represented by 2 beds, joined together or separated (according to your preferences). Additional sleeping places are Pullman beds located above the main sleeping places.

Interior cabin at Costa Pacifica and Costa Mediterranea
It is what the interior cabin and folding Pullman beds on Costa Luminosa as well as the single interior cabin on Costa Pacifica will look like:

Oceanview Cabins
The standard ocean view cabin's size amounts to 17-18 sq. m. whereas a single oceanview cabin's square is equal to 15-16 sq. m. Please pay attention, that the windows in such cabins can not be opened! The main sleeping places in the cabin are represented by two beds joined together or separated (according to you). Additional sleeping places are a sofa and a Pullman bed.

Oceanview cabin at Costa Pacifica and Costa neoClassica
Balcony Cabins
The size of the balcony cabin is equal to 20-21 sq. meters. The main sleeping places in such a cabin are represented by two beds, joined together or remained separated according to your preferences. Additional places for sleeping are a sofa and a Pullman bed. Balcony doors on most Costa cruise ships do not slide, they are opened inwards. To fix it and leave it open it is necessary to use a chair. Balcony size can vary depending on the category and location of a cabin).

Balcony cabin on Costa Pacifica cruise ship

Balcony cabin on Costa Deliziosa cruise ship
Suites
The size of a suite can vary from 28 up to 53 (42+10) sq. m. All the suits on Costa cruise ships have a balcony, whereas some of them are equipped with a jacuzzi. There can be either shower or a full-sized bathtub depending on the cabin category.

Panoramic suite with a balcony at Costa Luminosa and balcony suite at Costa Fortuna

Bathroom Equipment at Costa Cruises Ships
There is a TV (with international channels), telephone, hair dryer, mini bar, safe, a wardrobe, and an air conditioning system with a thermostat in every cabin. There are 220V and 110 V (115V) sockets as well. A pen and paper for notes are also available.

Socket and hair dryer in the cruise ship cabin
The shower is located behind the curtain; a dispenser containing shower gel can also be found there. In addition, there are some pieces of soap in the shower. If you need a shower cap or body lotion you have to call room service.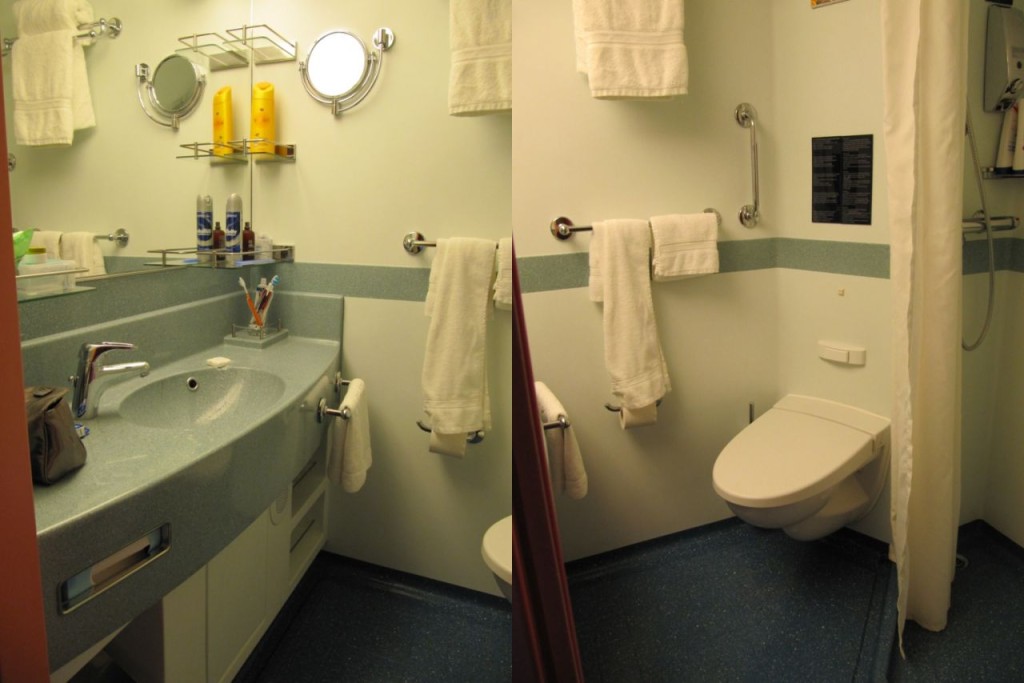 Bathroom on the Costa cruise ship
Categories of Cabins on Costa Cruises
Each cabin type can be attributed to a definite category that influences the cabin location and availability of some extra services included in the cruise cost as well as other benefits. Cabins on cruise ships can be of the following categories:
Classic
Premium
Samsara
Suite or Samsara Suite


Classic
- best price and opportunity to enjoy all the services and facilities available on board;
- Classic category cabins are located on the lower decks of the cruise ship.
Premium
- the best cabins in terms of their location and size located on every cruise ship's deck as well as the cabins located on the upper decks;
- opportunity to choose seating time at the restaurant;
- free breakfast delivery to the cabin on request;
- round-the-clock free room service.
Samsara
- unlimited access to the SPA area;
- tea ceremony, 2 wellness treatments, 2 fitness pieces of training, 2 visits to a solarium(Note that children under 18 years old are not allowed to visit the SPA area, thus booking of this cabin category is available only for those who have already reached 18 y.o.)
- food in Samsara restaurant (reservation of tables is not available for dinner);
- bathrobes and slippers are included;
- linen and pillows made of organic cotton.
Suits
- priority boarding;
- concierge services;
- a plate of fresh fruits in the cabin daily;
- availability to choose the sitting time, the restaurant, and the table size for dinner at the main restaurant when booking;
- free breakfast delivery to the cabin on request;
- free round-the-clock room service.
Food on Board on Costa Cruises Ships
The cruise cost includes food in the main restaurants à la carte for breakfast, lunch, and dinner as well as at the buffet-style restaurant which is open from 6.15 up to 22.00. Orange and grapefruit juice, cold and hot milk, tea, and coffee are served for breakfast. Cut lemon is offered as well for tea. Sometimes, instant coffee sachets and hot chocolate are available. There are no redundancies for lunch and dinner, thus only water is available at the buffet whereas there are no free-of-charge drinks at the restaurant. Alcohol and soft drinks are not included in the cruise cost.


Beverage station at the buffet on Costa cruise ship
Breakfast
Breakfast is served at the main restaurants as well as at the buffet restaurant. Dishes are served in portions in the main restaurant and have to be ordered from the waiter being preliminarily chosen from the proposed variants. The waiter pours tea or coffee as well. All the rest you have to take in the center of the restaurant where there are counters with vegetables, fruits, cheese plate and sausage cutting, cottage cheese, yogurt, muesli, jam, honey, etc.
The breakfast menu at Costa Luminosa cruise ship:
- American breakfast: pancakes dressed with maple leaf syrup and fried bacon
- English breakfast: beans in tomato sauce, bacon, fried eggs or scrambled eggs, half of the grilled tomato, champignon, and hashbrown
- Mexican breakfast: fried eggs served on a corn tortilla, tomato sauce with sweet paprika, beans, rice, and a slice of avocado

Mexican breakfast served at Costa cruise ships
- German breakfast: sausage, two boiled eggs, cheese, rye bread
- Spanish breakfast: scrambled eggs with sweet paprika, onion, and parsley
- Norwegian breakfast: smoked salmon, cream cheese, and pumpernickel

Norwegian breakfast served at Costa cruise ships
- Belgian breakfast: waffles with whipped cream, chocolate sauce, and cherry
- Benedict eggs: two poached eggs served on muffins with bacon and hollandaise sauce.
- Breakfast for scrambled egg lovers: scrambled eggs with ham, cheese, herbs, and pancetta, or with Swiss cheese, smoked salmon, and onion to choose from.
The buffet is served in the middle of the restaurant hall.


Food counter at the main Costa restaurant
There are various types of food selection represented by a couple of cheese types, sausages, ham, smoked fish (usually it is herring, sardines, or tuna sometimes, as well salmon and marlin), and vegetables (cucumbers, tomatoes, and onion) at the buffet restaurant. Vegetable salad can be dressed with olive oil, balsamic vinegar, or something else. Various kinds of bread are widely represented as well. Hot dishes are represented by porridge, boiled eggs, minced meat stewed in tomato sauce, potato cutlets, fried bacon, sausages, scrambled eggs without or with some stuff (such as onions, mushrooms, salmon) as well as toasts and pancakes. A dietary table is also available for those who suffer from diabetes.


Food counter at Costa buffet restaurant
Breakfast can be ordered to the cabin as well. It is necessary to mark the dishes in the menu you are interested in and the delivery time the evening before and put it on the door handle. This service costs 5 euros per person for Classic cabins. It does not depend on the quantity of the ordered food. For instance, if there are four of you in your cabin and you order just a cup of coffee, in any case, you will have to pay 20 euros. The thing is that you pay for the delivery rather than the breakfast itself. For Premium cabins, this service is free.

Breakfast served in the cabin at Costa cruise ship
Lunch
Lunch is served in the main restaurant according to the free seating principle. However, if there are two main restaurants on the cruise ship only one of them is open. Waiters will meet you at the entrance and provide you with free seats. Please get acquainted with some basic dishes served for lunch.


Lunch at the main restaurant
Visiting the buffet-style restaurant you will be offered cold snacks, soup of the day, warm dishes, a couple of pasta types, and desserts. Selections of sausage, ham, as well as salads and fresh-cut vegetables, are represented as cold dishes. Warm dishes are represented by meat, chicken, fish, seafood sometimes (shrimps, mussels, octopus), and various side dishes. In addition, lasagne or risotto can also be served.

Lunch buffet counter
Dinner
Every passenger has a table reserved for dinner at the main restaurant. The number of a table and a sitting will be specified in the Costa card which you can find in your cabin when you arrive at the cruise ship. Dinner is served in two sittings.

Dinner served at the main Costa restaurant
During a cruise, the so-called formal or gala dinners are organized at the main restaurant. As a rule, there are two of them, welcome and farewell dinner, but other variants are possible. These days you can find candles at the tables whereas the menu has a unique design.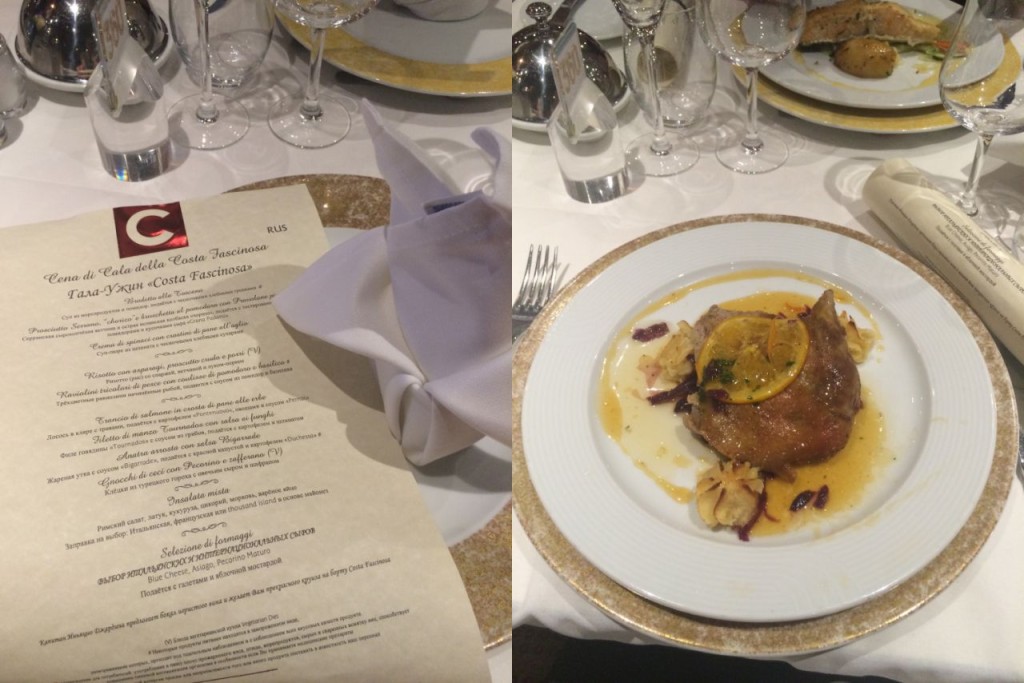 Gala dinner at the restaurant
The buffet-style restaurant is open in the evening as well, from 19.00 up to 22.00.
Samsara Restaurants
For passengers staying at the cabins belonging to the Samsara category, Samsara restaurant is the main restaurant. All the other passengers can be served there for an additional fee amounting to 30 euros per person.

Dishes served at Samsara restaurant
Some Costa cruise ships can offer a "chocolate bar", but, unfortunately, for extra money.
There is even a chocolate fountain at Costa Serena.
Entertainment on Costa Cruises Ships
Those who choose the Costa cruise line can be completely sure to be entertained and never get bored during the entire cruise trip. Costa Cruises provides all its passengers with various kinds of entertainment and activities suiting every taste.
Swimming on Board
All the company's cruise ships are equipped with swimming pools and jacuzzis. Some of them even have a retractable roof. Deck chairs at the swimming pools and the sun deck are provided for free. The pools are filled with sea chlorinated water.

Swimming pools at Costa Deliziosa and Costa neoRomantica cruise ships.
There are moderate-size water parks and children's swimming pools on some cruise ships.

Water slides at Costa Fascinosa and Costa Favolosa
Gambling on Board
There is a casino on every Costa cruise ship. It is the only place on board where cash is received when purchasing casino chips. Passengers who have reached 21 years old are allowed to play. While in port, the casino is closed.

Casino at Costa Diadema and Costa Deliziosa cruise ships.
Keeping Fit on Board
All the Costa cruise ships have a gym equipped with cardiovascular training equipment (running tracks, exercise bikes, elliptical machines, etc.), as well as strength training equipment and free weights. The newer the ship is, the higher the technical level of its equipment will be. There are changing rooms, shower cabins, and towels in the gyms. You can also have personal training with a coach for an extra payment.

Fitness-center at Costa Luminosa and Costa Mediterranea
You can enjoy a steam bath, or sauna, or visit a beauty care treatment room and solarium and have a manicure and pedicure made. SPA services are not included in the cruise cost and have to be extra paid. In addition to the gym, Costa cruise ships are equipped with sports courts for going in for various kinds of sports such as basketball, volleyball, tennis, mini-football, etc.

Sports court at Costa Diadema and Costa Magica
Other Cruise Activities
Numerous activities, such as master classes, plays, aerobics, shows, dances, and evening theater performances are organized on board every day. You can find out the time and place from the daily newspaper.
Children Traveling with Costa Cruises
The Special Costa team can entertain your children every day provided that they are independent and can use the toilet without assistance. Meanwhile, you can enjoy your cruise trip or disembark in one of the ports of call. The staff can look after the children from 3 (even if they turned 3 during the cruise) up to 11 years old from 9.00 up to 23.30. Babysitter services for children under 3 years old are also available on board.
There are four kids clubs at Costa cruise ships:
- mini-club (for children from 3 up to 6 y.o.);
- maxi-club (from 7 up to 11 y.o.);
- clubs for children of the early teenage years (from 12 up to 14 y.o.) and teenagers (from 15 up to 17 y.o.).
Shopping on Costa Cruises Ships
Some Duty-Free shops are available on Costa cruise ships allowing you to purchase alcohol, clothing, jewelry, sweets, cosmetics, perfume, watches, bags, and much more. While in port the shops are closed. You can buy souvenirs with the Costa logo on every Costa cruise ship as well.
Extra Services
Traveling on Costa Cruises ships, you can use various extra services as well.
Photos
When boarding, cruise lines camera-men take photos of all the passengers. You have an opportunity to buy them at the photo shop in the evening that day. You can also have your photos printed out, and order a professional photo shoot as well. These services have to be paid for.
Laundry Services
Laundry services are also available on all Costa Cruises ships. They include washing, ironing, and dry-cleaning. You can find a bag with the price list for these services. All you have to do is to put your belongings to be cleaned or washed inside it, write your name and your cabin number and give it to the steward. There are no self-service laundries on Costa cruise ships.
Medical Care
All Costa cruise ships have medical offices where licensed physicians and qualified nurses work. They are very well equipped for the most regular and urgent medical procedures and examinations to be carried out. All the medical services have to be extra paid.
Internet
Wi-Fi is available in the cabin and in all the public areas and on the open decks. Having paid for the Internet access at the reception, you will get the login password. Don't forget to click "Logout" every time you log off, otherwise, money from your prepaid package will go on charging.
Costa Crociere offers you a mobile App MyCosta Mobile which allows you to make free calls and send messages to each other. You can find it on Google Play and App Store.
Gratuities
Service charge (gratuities) is not included in the Costa cruise cost and has to be extra paid. Every passenger in the cabin pays for it, except for children under 4 years old. Gratuities are charged from your cruise card daily.
Smoking on Costa Cruises Ships
It is forbidden to smoke cigarettes, cigars, and pipes in all the interior areas of the Costa Cruises ships including the cabins, except for cigar lounges marked as smoking areas. Electronic cigarettes are allowed in the cabins as well as in any other lounges where smoking is allowed, except for interior public areas.
Smoking is allowed in strictly designated areas marked with corresponding tables and equipped with special ashtrays protected from the wind as well as at the cabin's balconies in case they are provided with ashtrays. It is strictly forbidden to throw cigarette ends overboard.