How to find a really cheap cruise among a significant amount of offers? How are the prices usually set on cruise lines?

To start with, it should be understood that cruises enjoying a massive demand will never cost little. A cheap cruise trip always represents a balance of quality and price. Pricing formation is always subject to the laws of market supply and demand.
If the cruise is cheap there is probably something wrong with it. The reasons sometimes can be on the surface. The low season, a poor route, and obsolete cruise ships are among them. Sometimes it is required to go deeper. For instance, a cruise line changed the route, and the urgent necessity to fill the cruise ship with passengers within a short period appeared. Sometimes there is a decrease in demand on the cruises entering the port of a certain country that has lately experienced a terrorist attack, for example. In any case, you should realize what exactly you are ready to put up with on your cruise trip and what you are not going to admit. If for instance, you count on a cruise in a high season on a new ship with a good route, and long stops in the ports simultaneously having a low price the probability of such a cruise approaches zero.
It is almost IMPOSSIBLE to find a cheap cruise in case the most conditions mentioned below should be observed:
Your cruise is planned for peak season

Your timeline is strictly limited by your vacation

You are traveling alone

You need a new cruise ship

You are looking for an interesting route implying long stops in the ports

You need a cabin with a balcony

Entry visa for visiting the route countries are required
You have a good chance to buy an inexpensive cruise trip in the following cases:
You are ready to travel during the low season

It is not important for you what ship to use and what the route is as the cheap price is your priority

You are ready to stay in an interior cabin

You have a lot of free time or the character of your work is remote and you are ready to start your cruise the next day (if required)

You have all the required entry visas

There a two of you on a cruise
What is the best time for a cruise purchase?
Most tourists know that the earlier you start booking your vacation the cheaper it will cost. Well, speaking about cruises it does not work. The best period for booking a cruise is approximately 2 months in advance or even less. Why is it so?
In the case you book your cruise in advance, you need not pay the whole amount at once. A cruise line as a rule charges a deposit whereas in most cases it is fully refundable. Thus, if a cruise became significantly cheaper no one can prevent you from rebooking it at the new much more favorable price. You can lose your deposit at worst or nothing at all at best.
It is exactly the reason why cruise lines try to keep their prices almost unchangeable. Approximately 2 or 3 months before the cruise starts (depending on the cruise line) you won't be able to cancel your cruise having avoided significant penalties. It is the time when the most affordable offers appear. The point is that those who have already booked their cruises are not likely to cancel them whereas the possibility to purchase the unsold cabins at attractive price increases. Thus, the nearer the date of the cruise the more significant the discounts are.
Of course, there are some exclusions. If it is known in advance that the demand for a certain cruise is likely to be low and a cruise line realizes that it will be difficult to provide this cruise ship with a 100 percent occupancy it can offer favorable prices a year or a year and a half in advance. It relates to repositioning cruises or the low season cruises (for instance, within November-December speaking of the Mediterranean). Vice versa, you should not count on an opportunity to book summer Mediterranean cruises or Norwegian Fjords trips at a low price in advance. If you would like to buy an inexpensive summer cruise the only way for you is to wait for the last-minute offers.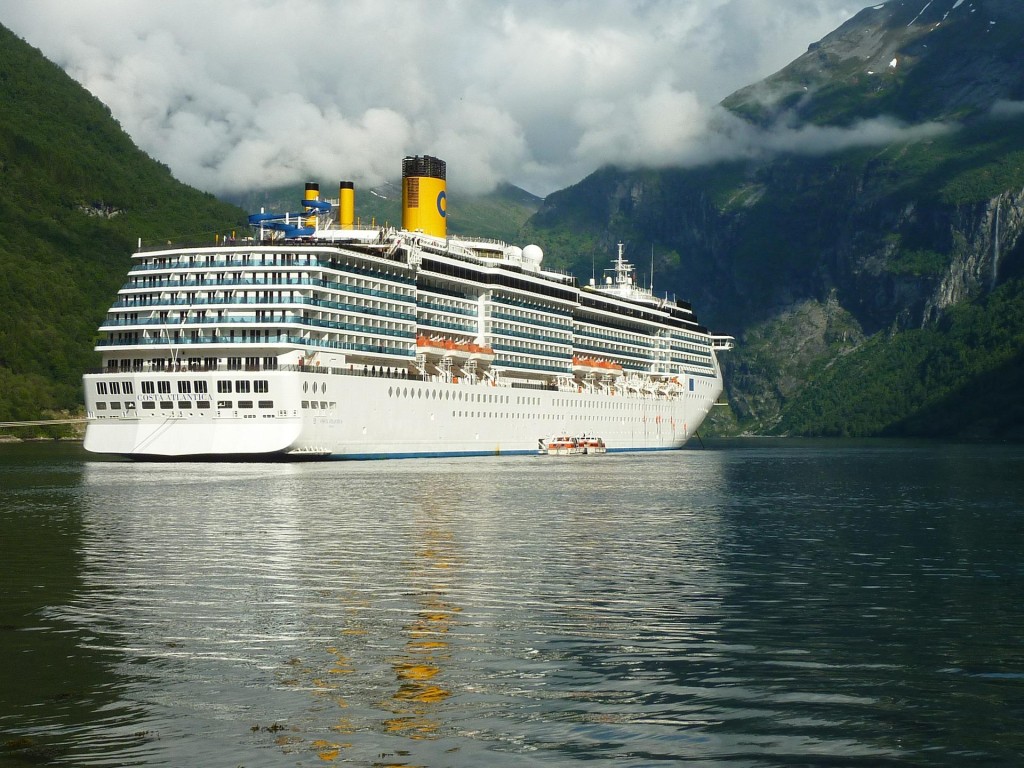 Choosing a cruise line
Speaking about Europe you should pay attention to the Italian mass-market cruise lines such as MSC Cruises and Costa Cruises. In relation to the USA, you can consider Carnival Cruise Line.
The German AIDA and American Royal Caribbean are the representatives of the higher price ranges as well as the Norwegian Cruise Line.
The premium segment is much more expensive with HAL, Princess, and Celebrity belonging to it. And yet, these companies can offer sometimes inexpensive variants.
What destinations to consider?
Let's agree that an inexpensive cruise is a cruise that cost less than 50 EUR per night for a person (not including a service fee). By buying cruises at a price of not more than this amount you can theoretically be on cruises anywhere in the world.
Only the most remote corners of the world such as the Polynesian Islands, Antarctica, and the Galapagos Islands are unavailable for this price. All the rest is available considering the above-mentioned budget. The table below demonstrates the price review that we used to manage to find concerning certain regions.
To buy now or to wait for the price reduction?
Have you ever faced a situation when you have found a reasonable price for a certain cruise but you are hesitating whether to buy it now or perhaps it is worth waiting until the price decreases much more? This choice is the most difficult and you should count on your intuition only. In reality, how can you know exactly how many cabins on this cruise ship have been already sold and how many of them are still available for booking? Only the cruise line can be aware of it.
Even we, having an impressive experience in the prices monitoring can not predict with a high probability whether the decrease is expected or not. The price of two completely similar cruises for the neighboring dates can significantly differ amounting up to two times. It can happen that one of them has predictably become cheaper before the start of the cruise whereas the price for another one remained unchanged but it is the second one that you need.
We recommend that if you find the price that has been already FAIR FOR YOU you should buy such a cruise. Otherwise, you can be at risk of losing such an offer. If the price for the cruise will become cheaper you should accept such a situation philosophically as you have already bought your trip at an affordable price that satisfies you. If someone has managed to buy the cruise at a much lower price he will be likely to have some significant additional expenses as the lowest prices can be usually offered right before the start of the cruise when inexpensive air tickets are unavailable already as well as the reasonable offers from the hotels, etc.