Norwegian Cruise Line ​was founded in 1966, whereas, Norwegian Cruise Line Holdings Ltd, an international holding company was established in 2013 and currently comprises such cruise lines as Oceania Cruises and Regent Seven Seas Cruises. Today, the company's fleet includes 19 cruise ships. All of them, except for Pride of America, are flagged to Bahama Islands. Pride of America represents the only ship that flies under the flag of the USA having an American crew on board as well. Norwegian Cruise Line ships go on cruises in Europe, North and South America, the Caribbean region, East Asia, Australia, and New Zealand.
The concept of the so-called Freestyle Cruising represents the cruise line's distinguishing feature and implies freedom of choice in everything, for instance, loose style of clothing, absence of fixed seatings at the restaurants, and allocated tables. Besides, another important novelty on board is that there are single studio cabins offered to those who prefer traveling alone without having to pay extra fees for single accommodation.
Quick navigation:
Accommodation
Cabins on Norwegian Cruise Line ships can be attributed to four main types:
interior cabin
oceanview cabin
balcony cabin
suite
The average size of a standard interior cabin amounts to 13-14 square meters. The smallest cabins can be found on the Norwegian Sky and Norwegian Epic cruise ships having an area of 11.2 and 11.8 square meters respectively. Two beds represent the main sleeping accommodations joined together or separated according to you. Additional places for sleeping are the Pullman beds located above the main ones.

Interior cabin on the Norwegian Jewel and Norwegian Sky cruise ships
Additional sleeping accommodation can vary depending on the cruise ship:

There are single interior cabins at the Norwegian Pride of America, Getaway, Escape, Epic, and Breakaway cruise ships, the area of which is equal to 9 square meters. The passengers staying in these cabins have separate access to Studio Lounge, the private recreation area where light snacks are served, and, in addition, there is a large TV with a wide screen and a bar.

Single interior cabin on the Norwegian Breakaway cruise ship

The size of a standard oceanview cabin equals 14-15 square meters. The smallest cabins attributed to this type have an area of 13 square meters and can be found on the Pride of America whereas the largest cabins of 15 square meters are located on the Norwegian Getaway. Please pay attention that the windows in the cabins can not be opened. There are no oceanview cabins only on the Norwegian Epic cruise ship! Windows can be of different sizes depending on the category of the cabin; some of them can have a limited view, besides, there can be a lifeboat behind the window. When choosing the cabin you should always pay attention to the cabin category and its location on the deck.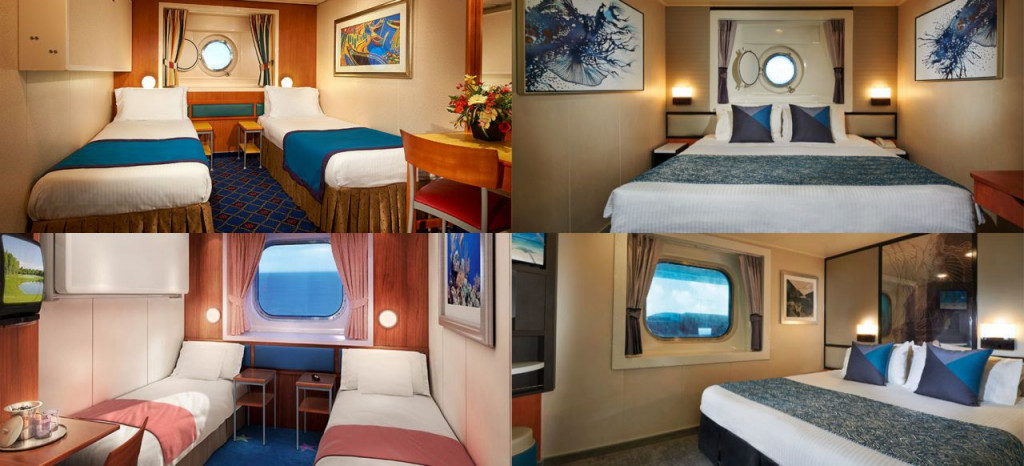 Various types of oceanview cabins on the Norwegian Cruise Line ships

The area of a standard cabin with a balcony is equal to 18-19 square meters whereas 3,5-4 sq. meters account for the balcony. Two beds represent the main sleeping accommodation; they can be joined together or separated according to your preferences. Extra sleeping accommodation is a folding bed or a sofa and a Pullman bed. Either a bed or a sofa can be located near the balcony door.

Balcony cabin on the Norwegian Breakaway cruise ship


Balcony cabin on the Norwegian Epic cruise ship

The smallest balconies having an area of 2.9 square meters can be found on the Norwegian Getaway, Escape, and Breakaway cruise ships. Moreover, most suites located on these cruise ships have the same balcony size as well.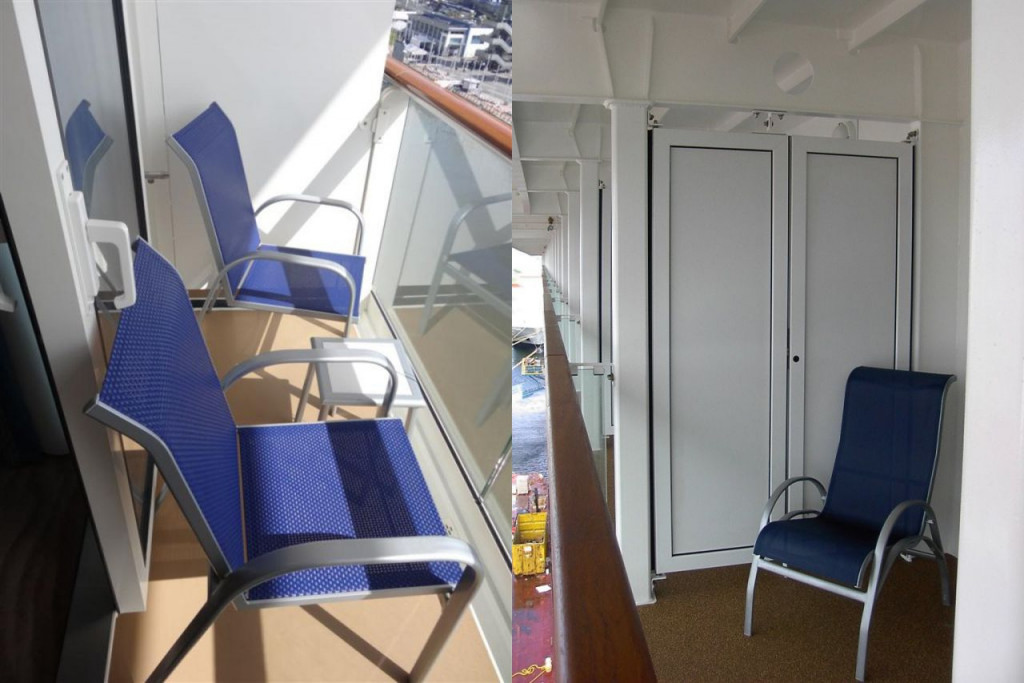 Balcony at the Norwegian Breakaway and Norwegian Gem cruise ships

The size of suits varies from 31 to 77 square meters. The two largest suites are located on the Norwegian Star and Norwegian Dawn. Their size amounts to 622 square meters with a 414-meter terrace. Most cruise ships have a mini-suite category of cabins having an area of 23-50 square meters. All the suites except for some of them located on the Pride of America cruise ship have balconies. The average balcony size is equal to 5 square meters.

Family Suite on the Norwegian Star cruise ship

There is a TV, mini bar, hair dryer, a safe deposit box, a telephone, an air conditioning system (both for cooling and heating), an ice bucket, and glasses that can be found in every cabin. All the cabins except for the interior cabins and oceanview cabins are equipped with a coffee machine. You should pay attention that there is only one 220-volt socket on most cruise ships. TV is connected to the interactive system allowing you to monitor your ship account status, order excursions and tables at the paid restaurants, see their menu, and even order pizza as well. You are also offered a set of paid movies for 10 US dollars.

Bathroom Specific Peculiarities on the NCL Ships
Most cruise ships have a system of the so-called division into zones in the bathrooms implying that a wash basin is located in the center, whereas a shower cabin can be found on the left side, and the toilet is on the right side.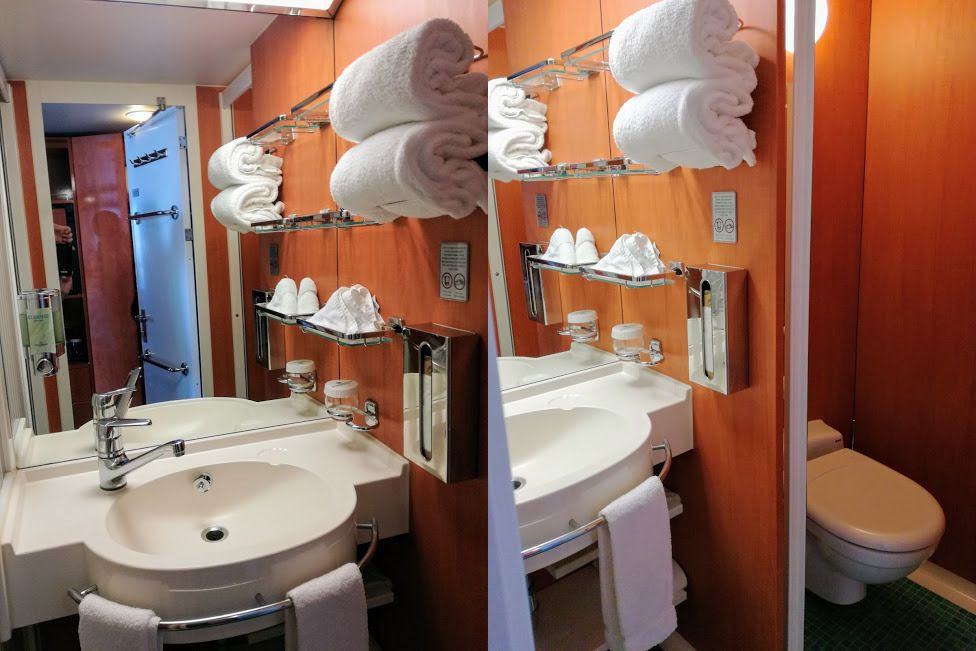 An interesting difference between the bathroom on the Norwegian Epic cruise ship and that on the other cruise ships is its location. A shower cabin, a toilet, and a washbasin in some cabins (not everywhere) are not located in a separate space but in a room where sleeping accommodation is. On the right and left sides of the entrance door, there is a toilet (behind the matte door) and a shower cabin whereas a wash basin is located near the bed. If you travel with unfamiliar people it might create some inconvenience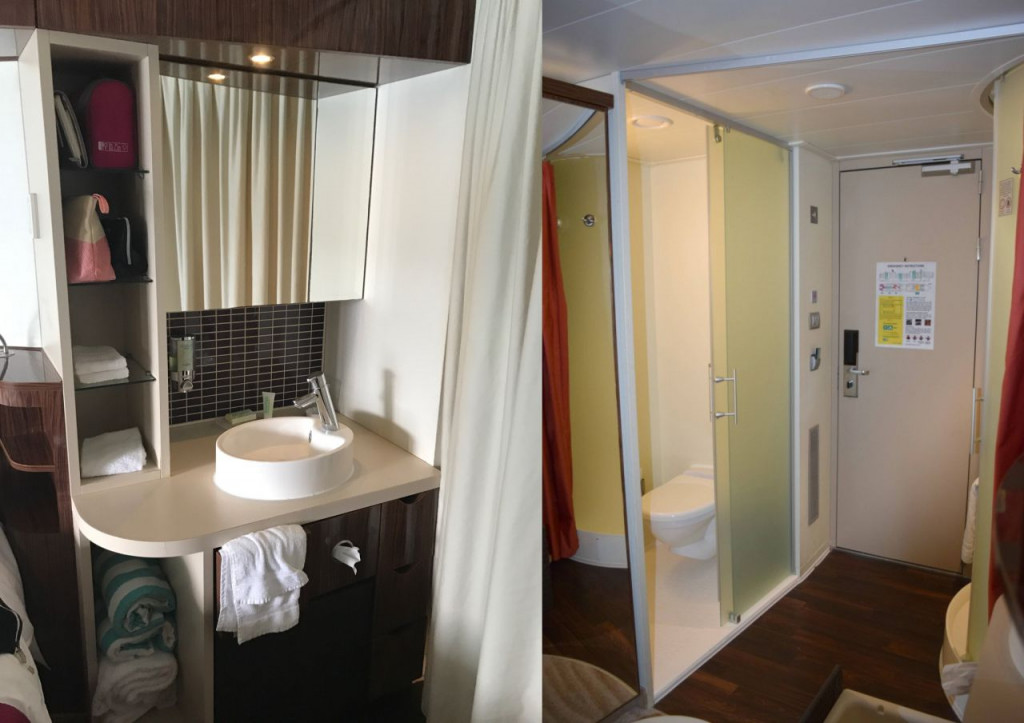 Shower cabin, toilet, and a washbasin on the Norwegian Epic cruise ship
It looks as follows at the cabin plan:

The bathrooms of all the standard cabins have shower cabins. On the new cruise ships, the shower cabin has a glass partition whereas most older cruise ships have a curtain instead. There is a shower gel and a shampoo contained in the dispensers located on the wall, whereas there is a liquid soap or a piece of soap at the sink.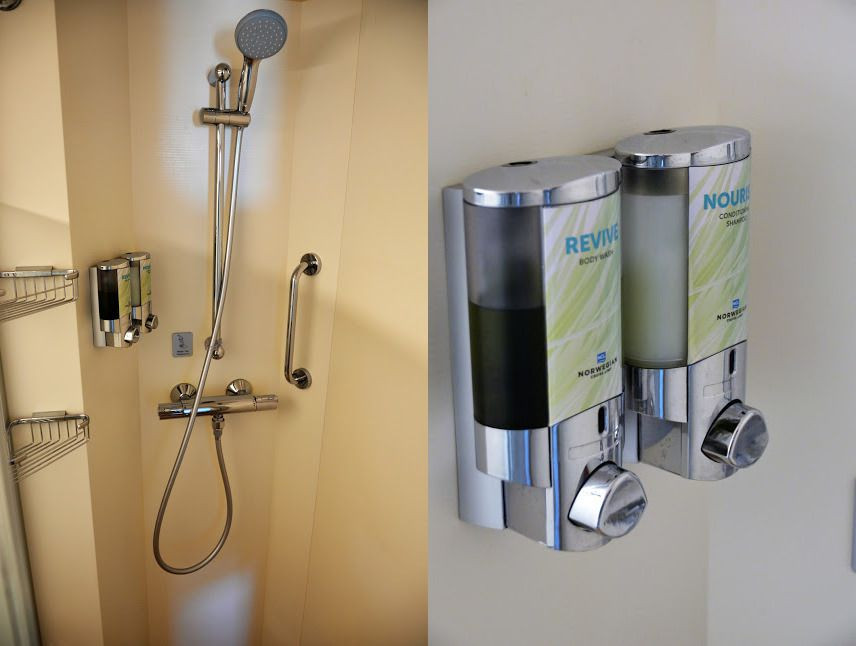 Some cabins are equipped with a full-sized bath. The bath at the suite of S5 category on the Norwegian Gem cruise ship:

In addition to all the above-mentioned standard categories which can be found on all the company's cruise ships, there are also the so-called SPA cabins. Their peculiarity lies in the fact that they are located as close as possible to the SPA area, besides passengers staying there have unlimited access to the Mandara Spa, fitness center, and a thermal zone equipped with a swimming pool, jacuzzi, sauna, and a steam room. You should pay attention that children under 18 years old are not allowed to visit the Mandara Spa thermal zone. Cabins attributed to this category can be found only on the newest cruise ships starting from the Norwegian Getaway, Escape, Epic, and Breakaway.
Moreover, the newest cruise ships of the Norwegian Cruise Line can boast such cabin category as The Haven. Passengers staying there have access to the special territory designed in the style of a private club having a separate restaurant, lounge area, and recreation zones near the swimming pool, jacuzzi, and round-the-clock personal service.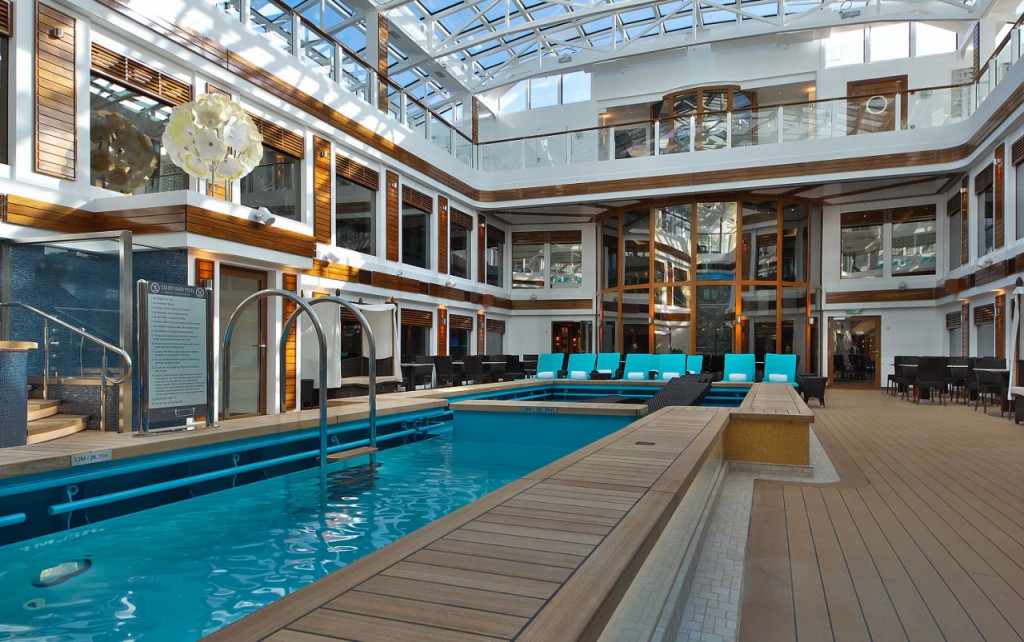 The Haven private area on the Norwegian Escape cruise ship

Food on Norwegian Cruises Ships
The cruise cost includes food served according to the all-inclusive system as well as soft drinks such as tea (black, green, mint, jasmine, cinnamon, camomile, etc.), coffee, water with ice, and carbonated drinks. During breakfast, juices from the drinks machine are available, in addition, waiters serve coffee in coffee pots.
The cost of a cruise booked according to the Premium All Inclusive system includes a wide range of premium-class alcoholic and soft drinks available at all the bars, recreation areas, and restaurants on board at any time during the cruise such as strong alcohol drinks, draft, and bottled beer, wines, cocktails, lemonades, and juices, as well as Lavazza elite coffee varieties during breakfast, lunch, and dinner. Besides, all the passengers who choose this system are provided every day with a bottle of water per person in their cabins.


Breakfast
A variety of flakes and milk as well as muesli, yogurts, porridge with various additives, pancakes, waffles, Eggs Benedict with various kinds of stuffing, boiled eggs, numerous hot dishes, scrambled eggs, ham, fish, cheese, and meat varieties, some kinds of sausages, beans, salmon, smoked salmon, french toasts, pies, a variety of bakery products, fruits (grapes, apples, bananas, pears, melon, pineapple), berries, cottage cheese, dried fruits (dried apricots, prune, raisin), and pastry is available at the buffet restaurant for breakfast.


You can also have breakfast at one of the main restaurants where alongside à la carte service you can also find a small buffet. They serve packaged juice (for instance, grapefruit, tomato, or plum juice) which differs from that served at the juice station at the buffet restaurant, as well as a fruits plate, oatmeal with berries, Eggs Benedict, lightly salted salmon, waffles, and other food that is not available at the buffet restaurant. In addition, you can order breakfast in your cabin (except for the morning when you arrive at the final port of your itinerary). A breakfast order option is included in the cruise cost.

Lunch
A variety of soups (cream soup, onion soup) is served as well as pasta, roast beef, various side dishes, cheese and meat plates, meat, fish, and poultry as the main courses, desserts, salads, soft ice cream from the ice cream station and regular ice cream of various kinds are served for lunch at the buffet restaurant. During lunch and dinner time, you can also find an area where Indian and Chinese cuisine is served.

You can also have an à la carte lunch served at the main restaurant. At the main restaurant bread and butter are the first thing that is brought for lunch or dinner. The menu consists of two parts: the first one is constant whereas the second one changes every day.


Dinner
A wide variety of seafood, salmon pie, salads, pizza, hot courses, paella, shrimps barbecue, mutton, some varieties of fish, soups, duck, cheese and meat plate, herbs, fruits, ice cream (you can always find a sugar-free kind), desserts, pancakes with various fillings (chocolate, jam, whipped cream) is offered to you for dinner at the buffet restaurant.
Water with ice, tea, and coffee is always available at the main restaurant for dinner. An indicative list of the dishes usually served is as follows: quesadilla with mushrooms as an appetizer, chicken with shrimps dressed in curry-coconut sauce, spaghetti bolognese, chicken breast with mashed potatoes, tiger prawns, tomato soup with croutons, duck, salmon tartare sauce, chocolate dessert with fruits, and many others.


Other Types of Restaurants on the Norwegian Cruise Line Ships
There are several à la carte restaurants on the NCL cruise ships which are included in the cruise cost. For instance, there is a French restaurant where you can order a variety of seafood, such as snails, mussels, scallops, bouillabaisse, fish in a puff pastry, as well as a cheese plate, desserts, and many others. You can choose as many dishes as you want. You can also order a lobster for an extra fee.
In addition to all the above-mentioned, there are numerous specialty restaurants. As a rule, they work as follows: you have to pay only an entrance fee and order whatever you want from the menu. A table has to be reserved in advance. You can do it both before the cruise and directly on board. All the restaurants (both paid and free) have kids' menus allowing children to eat for free. The menu is the same at all the restaurants. You also should keep in mind that if you give your dish to your child a waiter won't pay attention to it. Thus, children eat for free everywhere on board.
There is another thing you should note. You may not visit free restaurants booked in advance, whereas reservations at the paid restaurants have to be canceled in advance, at least not later than 24 hours, otherwise, you will be charged the full cost of your visit.
Norwegian Cruise Line Onboard Entertainments
All the NCL cruise ships are equipped with several swimming pools and jacuzzis. There are free sunbeds on the sun deck and near the swimming pools. It is not recommended to leave your private belongings there for a long time. Beach towels can be found in the cabins. You can change them both, near the swimming pool and directly in your cabin by a steward. Some cruise ships have swimming pools for children and only those adults who accompany their children are allowed to be there. There is the sea and chlorinated water in the swimming pools.

Swimming pools on the Norwegian Jade and Norwegian Sun cruise ships

Most cruise ships are equipped with water slides, whereas there is a huge water park and rope park on the modern NCL ships.

Water park on the Norwegian Escape and Norwegian Breakaway cruise ships

Rope park on the Norwegian Getaway and Norwegian Breakaway cruise ships

Keeping Fit on Board
All the cruise ships are equipped with a gym, a running track, and a full-sized sports ground for playing basketball, volleyball, and tennis. Most vessels have bowling, darts, a rock-climbing wall, and a mini-golf course as well. You can also visit a lot of lectures at the fitness center concerning weight loss and health as a whole. They are both free and paid.

Sports court on the Norwegian Pearl and Norwegian Breakaway cruise ships

Beauty Treatments on Norwegian Cruise Line Ships
There is a SPA salon on all the company's cruise ships except for Norwegian Sky, Spirit, Sun, and Pride of America which services are provided by Mandara Spa, the famous brand. The SPA area is equipped with dry and wet saunas, stone heated beds, a swimming pool, and a jacuzzi. You can enjoy massage, hydrotherapy treatments, aroma therapy, and thalasso therapy. There is a salt room on the Breakaway, Getaway, and Escape cruise ships.
There are lockers in the changing room where you can leave your personal belongings; you can find shower cabins, towels, and a hair dryer there as well. The SPA area on the Norwegian Breakaway cruise ship is located above the bridge and has a panoramic window with an amazing view of the bow of the ship.
You can buy access to the SPA area only for the whole cruise time. For instance, one-week access costs 189 USD per person on the Norwegian Epic cruise ship whereas 18 percent will be charged additionally. Only those who have reached 18 years old can use these services.


SPA area on the Norwegian Getaway and Norwegian Epic cruise ships

Gambling on Board
There are casinos on all the cruise ships except for Pride of America; the most popular games are available there. During the cruises, weekly poker and blackjack tournaments usually take place. For participation, pre-registration is required. You can take a free lesson on any game you like provided by the personnel. While in port casino is closed. Only passengers who have already reached 18 years old are allowed to play.

Casino on the Norwegian Breakaway and Norwegian Dawn cruise ships

Cultural Events on Board of the NCL Cruise Ships
On all the cruise ships operated by the company, you will be able to find a theater offering passengers music, acrobatics, comedy, and other performances conducted in several shifts. For visiting the theater on board, preliminary registration is required. In addition to it, Norwegian Epic and Norwegian Breakaway cruise ships have another small hall called Spigel Tent where circus performances accompanied by dinner serving are held. These performances have to be extra paid and their cost is from 29.99 USD on the Norwegian Epic depending on the places chosen, and from 39.00 USD on the Norwegian Breakaway cruise ship. Besides, numerous entertaining events are organized on board all the cruise ships every day; you can find information concerning the place and time in the daily newspaper.

Spigel Tent theater and the hall on the Norwegian Breakaway cruise ship

Enjoying Shopping on Board
Every cruise ship has an NCL company store where you can buy branded souvenirs. Duty-Free shops offer you a variety of alcohol, clothes, accessories, souvenirs, jewelry, perfume, cosmetics, tobacco products, necessities, and many others. When in port the stores are closed.
Extra Services
Shore excursions are not included in the cruise cost. You can book and pay them before the start of your cruise using the cruise line's website. Booking starts 6 months before the cruise and ends 11 days before it.
Group transfer in the ports of call worldwide is also available. It has to be ordered not later than two weeks before the cruise starts.
Professional photographer services are available on board as well. The prices for the package of photos in the case of preliminary booking on the website are as follows: 10 photos + 1 photo as a bonus will cost you 149 USD; 20 photos + 3 bonus photos' price is 199 USD; 30 photos + 5 bonus photos can be ordered for 249 USD.
You can use the services of skilled physicians and nurses on all the cruise ships of the company. They are available 24 hours a day and are always ready to provide emergency medical care. Medical care services rendered on board have to be extra paid. We recommend that you take all the necessary medicine with you. You can get pills for motion sickness from a steward at the Guest Relations desk.
You can order laundry services on all cruise ships. They include washing, ironing, and dry cleaning. The price list can be found in every cabin. In the case of standard order, your clean clothes will be delivered the next day. If you need to get your clothes back on the same day you should give your clothes preliminarily packed in the special bag and the form to a steward before 09.00 AM; the surcharge will amount to 50 percent of the total cost of your order.
International calls are available from your cabin and the average cost of 1 minute is equal to 15 USD (satellite communication).
Internet on Board
You can get access to the Internet by connecting to Wi-Fi in your cabin or at any other place on board. If you don't have your device you can visit an Internet cafe and get access to the Internet using the ship computer. Prices for Internet access via Wi-Fi and Internet cafe are the same.
There is also an iConcierge on board, a free application used on all the NCL cruise ships enabling passengers to communicate, and order tables at restaurants, excursions, etc.
Smoking on Board
Norwegian Cruise Line has tightened the rules for smokers since November 1st, 2014. Since that time smoking has been prohibited in the cabins and on the cabins' balconies.
All the public areas are under the prohibition of smoking. If you smoke cigarettes (including electronic) you can do it only in the areas specially designated, marked, and equipped for it. In addition, active casino players are allowed to smoke in casinos during their working hours.
Smoking in the cabins and on the balconies is subject to a penalty of 250 USD. If bed linen, towels, furniture, or carpeting are damaged as a result of smoking it will lead to a penalty as well. Electronic cigarettes are not allowed to be used in public areas because they look realistic so other passengers can conclude that the cruise line does not carefully monitor compliance with the rules for smokers on board.