Doha represents an amazing combination of the old and the new. Skyscrapers here coexist with the century-old city sites and oriental bazaars, whereas its new cruise terminal is considered one of the best in the entire Middle East.
Where Cruise Port Is Located
Before the year 2022, cruise ships docked at Hamad cargo port located 40 kilometers from the center and it was inconvenient to get everywhere from it.
And yet, a new modern cruise terminal "Grand Cruise Terminal" was built for the FIFA World Cup in 2022. Located not far from the city center it is currently the main one. This new cruise terminal can simultaneously accommodate 2 cruise ships and 7000 passengers.
The cruise terminal building is wholly new and modern. Inside, a large aquarium "meeting" passengers can be found inside.
View of the new Doha cruise terminal from the cruise ship
Port Shuttle Buses
Tourists are delivered to the city center by shuttle buses. They can be paid or free of charge depending on your cruise line. It sounds strange, but it is so. I was in Doha with German TUI, we stayed in port for 2 days, and free shuttles were available all that time. However, according to my friends who came to Doha with MSC, they had to pay extra money (9 euros) for the same shuttle buses.
The bus stop of the port shuttles is located to the right of the terminal exit.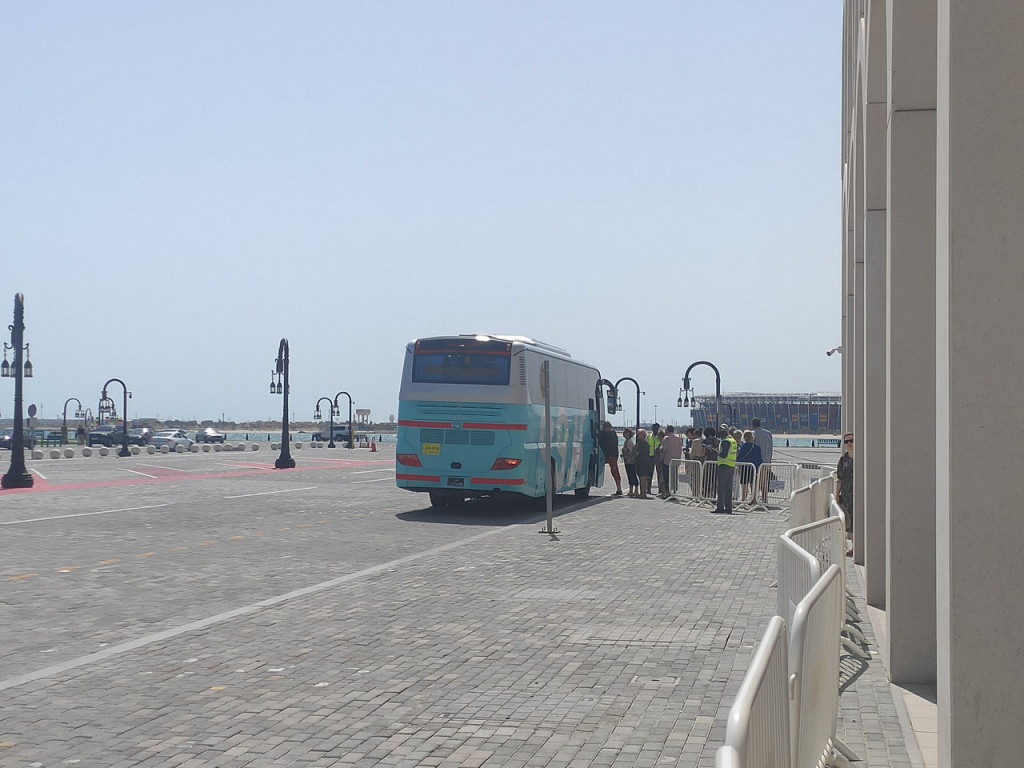 Shuttle buses stop in the port of Doha
Shuttle buses deliver tourists to Souq Waqif Square where a traditional oriental bazaar can be found. One way trip takes approximately 20 minutes. However, you should take into consideration that there may be significant traffic jams in Doha in the evening, so the way back to the ship can take more than an hour.
Other Ways to Get to the City
It is possible to get to Corniche, the main Doha embankment, on foot. But the distance amounting to more than 3 kilometers and the burning sun make the promenade difficult.
Mina District is located within walking distance of the port. Due to its colorful architecture, it can be seen from a distance.
Alongside colorful buildings, numerous restaurants, souvenir shops, and a wonderful fish marketplace are located here. This district represents a good location for those who like taking pictures.
You can get to the nearest metro station by electric car free of charge from here. Here is a review of our friends concerning this service:
"The driver himself stopped us and offered to take us. We thought we had to pay, but the service turned out to be free of charge. "Free service" was written on the car. We got to the metro and gave him the tips amounting to a couple of euros. On our way back we used this service as well. There wasn't enough space for all of us inside as there were 5 of us, but another car came in some minutes and took the rest of our company. The cars are designed to carry 3 and 5 persons".
How to Move Around the City
Hop-on-hop-off buses
Every 30 minutes a hop-on-hop-off bus (Dohabus) departs from the cruise terminal. It runs across the main streets and Doha's great city sites. You can get off the bus at any moment at the bus stop that you need and after a while join the tour again.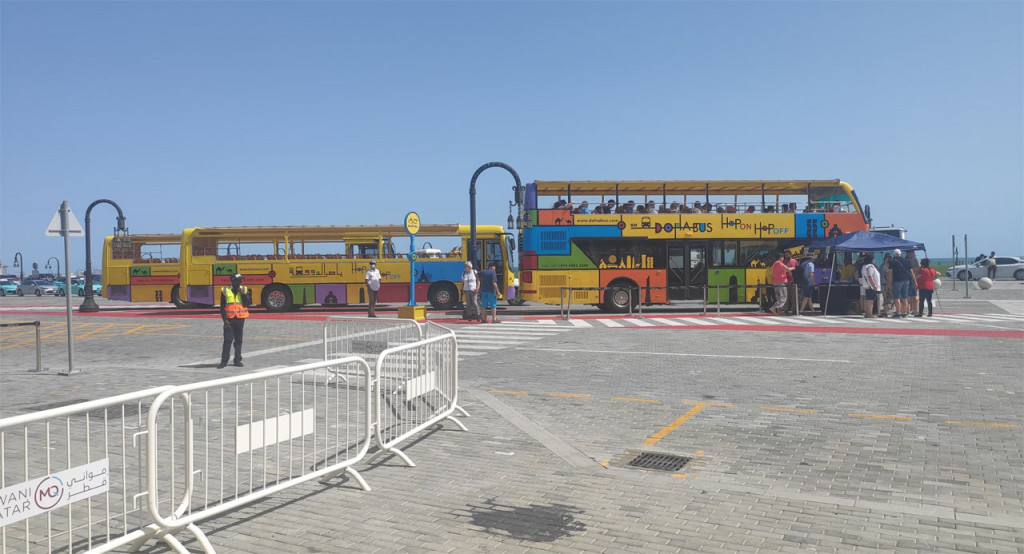 In addition to the day excursions, overnight tours are also available allowing you to see Doha's beauties in the evening lights.
The hop-on-hop-off bus stop in the port of Doha is located directly opposite the exit from the cruise terminal
The cost is $50 per person for a 24-hour ticket. Tickets can be bought
here
Metro in Doha
I still recommend that you should get to the nearest Souq Waqif metro station using a shuttle bus or electric car and then move around by metro.
Metro in Doha is modern (it has been built for the FIFA World Cup, 2022), convenient, and understandable. The cost of the ticket for the whole day amounts to 6 riyals (1.5 euros). You can get to all the key tourist sites using this way of transport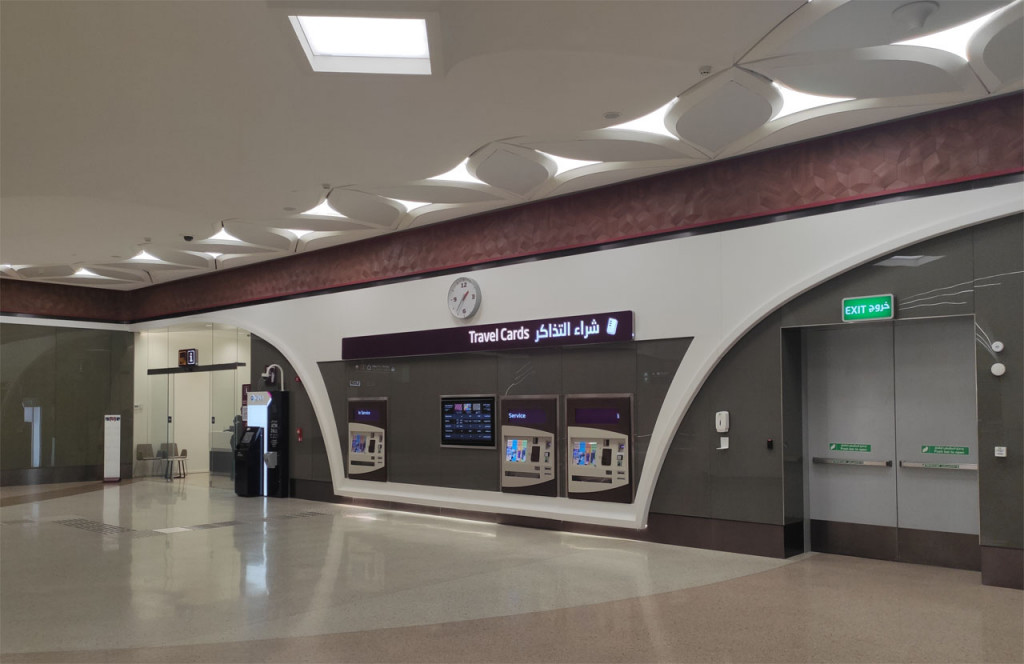 Metro ticket-selling machines in Doha. Bank cards are accepted
There are air conditioners everywhere in the metro, but there are not many people inside. Within 2 days of my stay in Doha, I have not seen crowded subway cars, moreover, very often, metro stations are empty.
What to See in Doha on a Cruise
Corniche Embankment is a center of attraction for tourists. It is surrounded by ultramodern buildings and is ideal for walking no matter what part of the day is. There numerous interesting city sites are concentrated there. For instance, the Museum of Islamic Arts, the famous Pearl Monument, as well as several landscape parks.
Qatar National Museum is located in a building having a unique architectural style. Using contemporary technology means such as projection and visualization a unique area has been created. It is considered the best museum in the entire Middle East.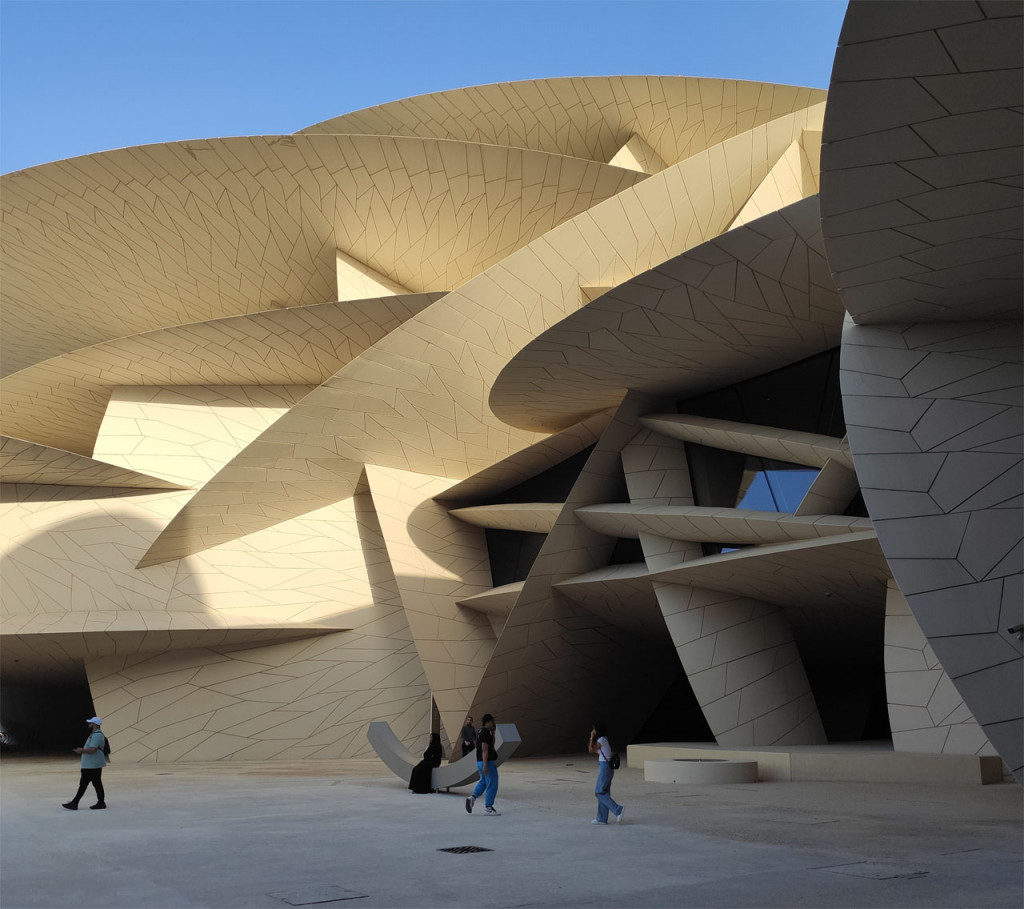 Katara Cultural Village is a place where you can get acquainted with Qatar's national culture. It represents a city district containing an embankment, amphitheater, museum, conference center, shops, restaurants, and the beach. Here you can taste national cuisine, listen to music and buy souvenirs.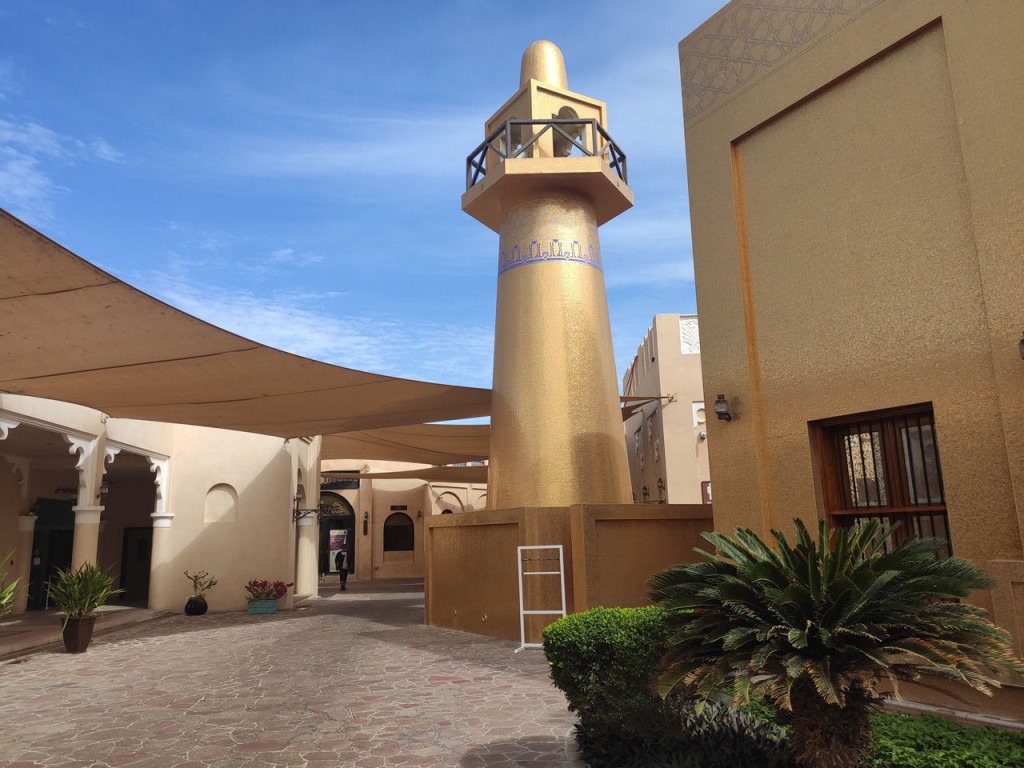 The Museum of Islamic Arts is a museum that opened in 2008. It contains Islamic works of art from 1400 years.
Souq Waqif is a lively bazaar located in the historical center of the city. Here you can see traditional clothes, handmade products, spices, and perfume, as well as eateries and hookahs.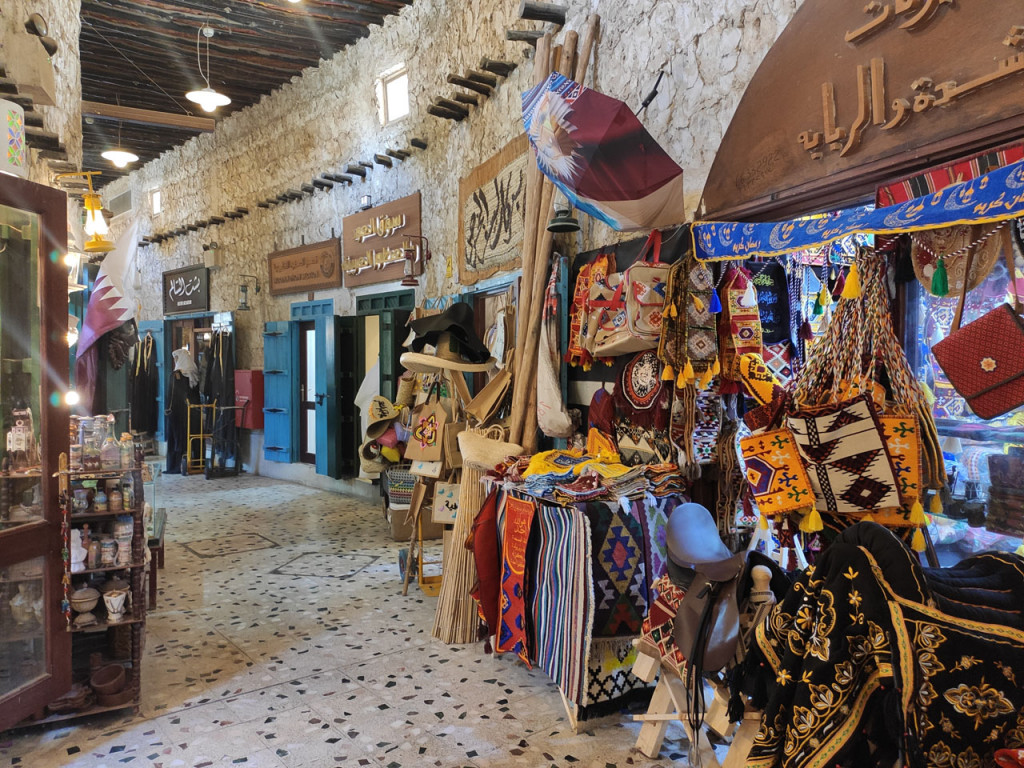 Restaurants
Numerous restaurants are serving international cuisine in Doha, many of which can be found along the Corniche embankment. And yet, a particular pleasure is to taste Qatari national dishes. The local cuisine has been influenced by the culinary traditions of India, Africa, and the Middle East. It is worth tasting biryani (the dish made of rice, chicken, or meat and a lot of spices), pudding of puff pastry with raisins and nuts, hummus, and fragrant Bedouin coffee.
Shopping and Souvenirs
Doha is often called a shopping paradise. This way of entertainment turns into a unique adventure in the capital of Qatar! You can be sure of this having visited the Villaggio Mall shopping center built in a medieval Italian style.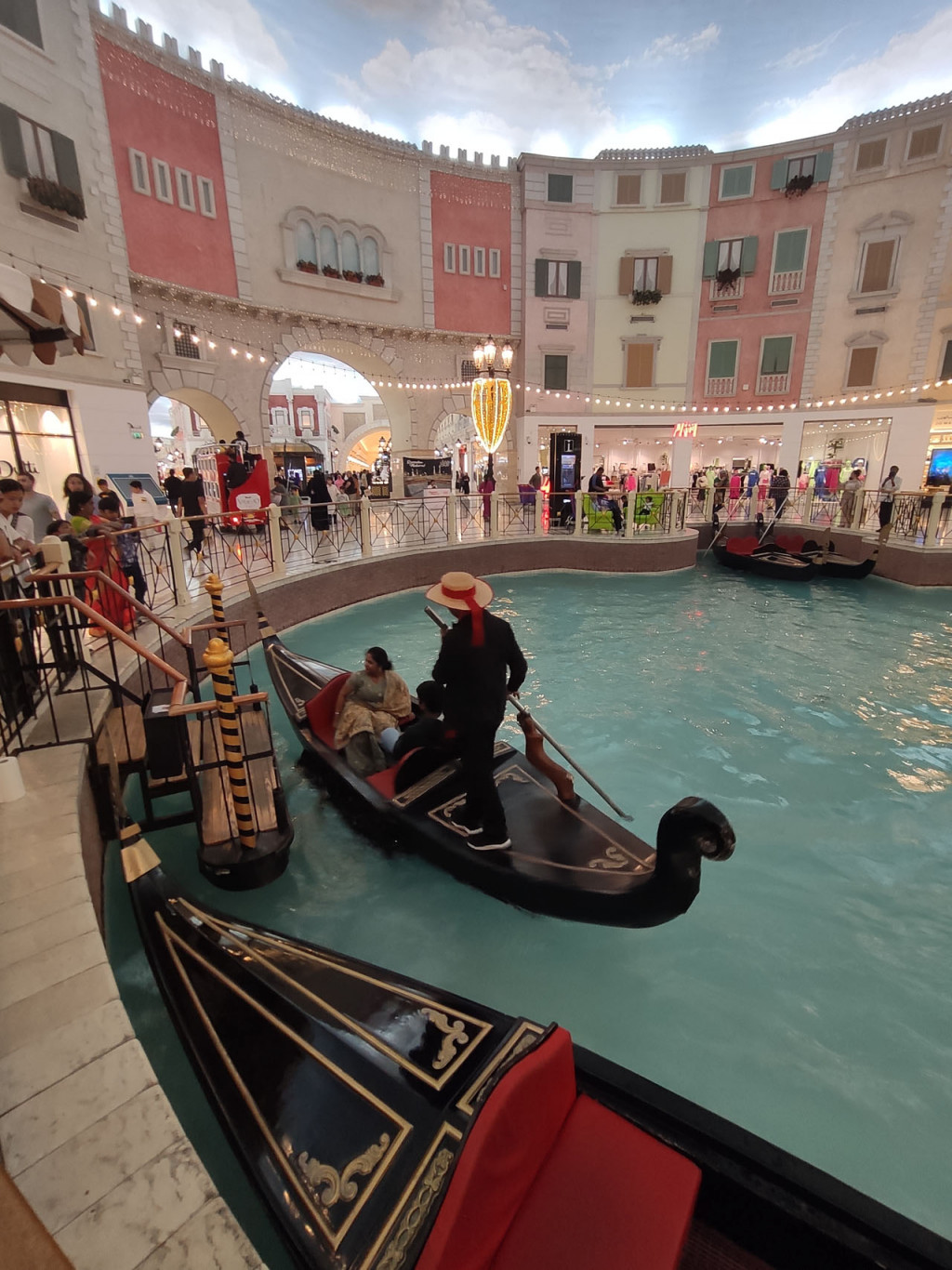 Boutiques here are lined up along artificial canals with bridges whereas various attractions for the whole family are available in the amusement park. Stores of international famous brands (including democratic ones) can be found in the Villaggio Mall as well. You can also buy accessories, optical products, and perfume. If you plan to buy gold, incense, souvenirs, and spices, you should go to the Souq Waqif Bazaar, whereas truly exquisite jewelry is worth looking for at the Doha Gold Bazaar (Doha Gold Souq). Alongside jewelry and spices, high-quality textiles, natural oils, and coffee sets are usually purchased by tourists as gifts.
Internet in Doha Cruise Port
Free high-speed Internet is available in the passenger terminal. If you are lucky and the balcony of your cabin overlooks the terminal you will be able to get a stable signal right on your balcony. There are stands where you can buy local sim cards in the terminal, but they are expensive enough.