Hamburg Cruise Port represents one of the largest transport hubs in Europe, as well as the famous sea and river port, which can offer its tourists as many as three cruise terminals. The main cruise terminal can be found in HafenCity, on the territory of a reconstructed warehouse whereas the second one is located in the Altona district in the former fishing dock. The newest cruise terminal (opened in 2015) is in the very heart of the Hamburg port (Steinwerder district). Let us get better acquainted with one of the most popular German cruise ports with Cruise Panda!
Where Cruise Ships Dock in Hamburg
As we have already mentioned, there are 3 cruise terminals in the city. Let us get to know about each of them in more detail.
Altona Cruise Center
It represents a comparatively new cruise terminal that has been operating since 2011 and can accommodate cruise vessels with a length of up to 300 meters. It is located farther than all the rest from the city center. So, if Altona turns out to be your terminal you should use a shuttle boat (route 62) running between Altona and Landungsbrücken embankment. This short trip itself can give you positive emotions as you will be able to admire the beauties of this multifaceted city from the water. Landungsbrücken Pier is where all the city tours and the most popular excursions start. Bus route 111 is also available for you to get from the terminal to the city.
HafenCity Cruise Center (Baakenhöft)
Represents another cruise terminal of Hamburg located in the popular HafenCity District. As with Altona, the main goal of its construction was handling cruise ships. It is conveniently located in comparatively close proximity to the city center of Hamburg (2.5 kilometers), so it won't be difficult to cover the distance on foot. And yet, if you don't have a particular desire to walk you can use public transport or take a taxi.
Steinwerder Cruise Center
Located in the Kronprinzkai port area, this newest cruise terminal is mainly used to dock cruise ships belonging to the latest generation. It is located comparatively far from the historical city center of Hamburg. To get to the city you should walk for around an hour which is not suitable for everyone. So, the most convenient and cheap variant is to walk about 400 meters from the port to the shuttle bus stop (Argentinienbrücke), take a bus 156 or 256 to the Veddel metro station, and then go by metro to Stadthausbrücke station. In addition, a shuttle boat is also available here to get to the city.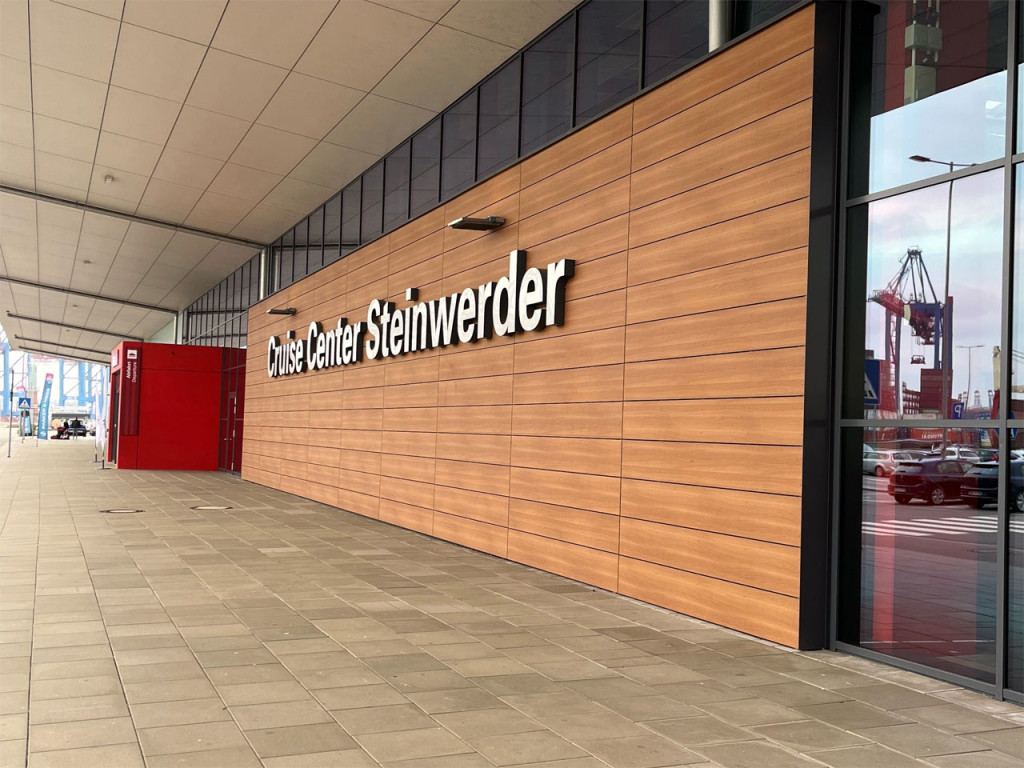 As you can see, everything is comparatively close in Hamburg. Besides, cruise lines, no matter what port of your arrival is, offer a bus shuttle transfer, which costs about 10 euros so you won't have to think about how to get to the city. In case there are 3 or 4 of you it won't be that expensive to take a taxi (the average cost of a one-way trip to the center is 15 euros).
Everything changes very rapidly, so the best way to be 100 percent sure of how to get to the destination you need you should additionally consult Google Maps and create your route using this useful service.
By the way, soon the new terminal will be opened (in 2024). Currently, it is under construction and located in the Überseequartier district, which is very close to the city center. Tourists arriving at this cruise port won't have any difficulties getting to the center of Hamburg as the berth of the new port will be right near the Elbphilharmonie and other remarkable central city sites.
How to Get from Hamburg Airport to Hamburg Cruise Port and Vice Versa
The distance between Hamburg Airport and Hamburg cruise port is about 10 kilometers. Besides, the S-bahn subway station is located right under the airport terminal. Trains depart every 15 minutes.
Here is the brief instruction on how to get from the Airport to Hamburg cruise terminals:
Hamburg Airport - HafenCity Cruise Center: the nearest metro station to the port is Überseequartierthe (green line) located 300 meters from the port;
Hamburg Airport - Altona Cruise Center: again, you should go by metro to Königstraße metro station;
Hamburg Airport - Steinwerder: you should go by metro to the Veddel metro station, then take a taxi to cover 5 kilometers to the cruise port or wait for bus 256.
As the entire distance is not significant, if there are at least 2 of you it can make sense to hire a taxi to get from the airport to your cruise ship.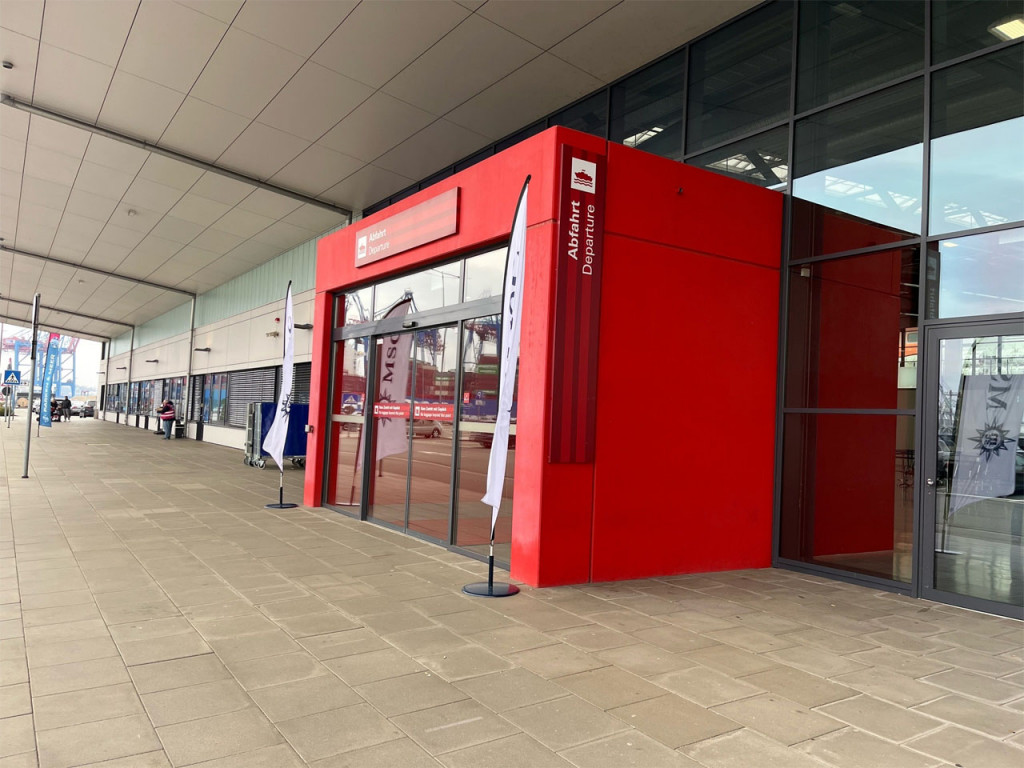 What to See in Hamburg Cruise Port
Located in the Elbe Delta, Hamburg represents the magnet for cruise vessels all over the world allowing tourists to feel comfortable and happy. This hospitable city adores when cruise ships arrive. City dwellers enjoy this unforgettable and exciting atmosphere when a cruise ship enters one of its terminals. Having centuries-old rich history Hamburg can offer you numerous tourist gems so you could get new amazing impressions and wonderful traveling experiences. So, it is not surprising that Hamburg is often called "the heart of Northern Germany".
The historical center of Hamburg is comparatively small so it won't be difficult for you to walk around it. However, you can use the popular hop-on-hop-off bus not to miss anything interesting. For more detailed information concerning this type of transportation please consult
here
.
Old Town
Like other European cities having outstanding history, the Old Town of Hamburg represents the main city site and its hallmark. This open-air museum is the place where all the city's significant architectural and natural beauties are concentrated, for instance, Town Hall Square, Elbphilarmonie, Kunsthalle, Alster Lake, cathedrals, and palaces.
Hamburg Rathaus (Town Hall)
It can be called the heart of the city of Hamburg without exaggeration. Created in Renaissance style, this architectural miracle today serves as a mayor's residence whereas the Town Hall Square represents the main location for the city's celebrations, fairs, festivals, and other cultural events.
Hamburg Museums
Hamburg is rich with various museums famous and well-known far beyond the borders of the country. Kunsthalle, Hamburg Historical Museum, Hamburg Museum of Arts and Crafts, Panoptikum Wax Museum, Hamburg Dungeon, Maritime Museum - the list of them is far from completion. Choose which you most of all like to visit or try to combine as many as you can depending on the duration of your stay in Hamburg cruise port.
Lake Alster
Is a lake located in the very center of the city and surrounded by several prestigious city districts. The six-kilometer coastal area represents a large public park. Numerous water sports competitions regularly take place here, whereas city dwellers and tourists can take a shuttle boat running across the lake and have an exciting boat trip.
St. Nicholas Church
This magnificent cathedral represents the neo-gothic church, one of five Lutheran churches in Hamburg. The history of this shrine is tragic. Once it used to be the tallest cathedral in all of Europe, and yet, unfortunately, has been ruined as a result of the bombings during World War II. City dwellers have made a strange decision to leave everything as it was to remind them always about the horrors of war. Today, the 147-meter tall frame of the bell tower accommodates the modern museum devoted to the cathedral itself as well as life in Hamburg as a whole.
If you travel with your children, visiting this museum is a must for you. It represents the most famous and largest museum of this kind in the world containing a miniature city of Hamburg including a model railroad which is the longest in the world and even included in the Guinness Book of World Records. The museum is conveniently located in the center of Hamburg, in the Speicherstadt district.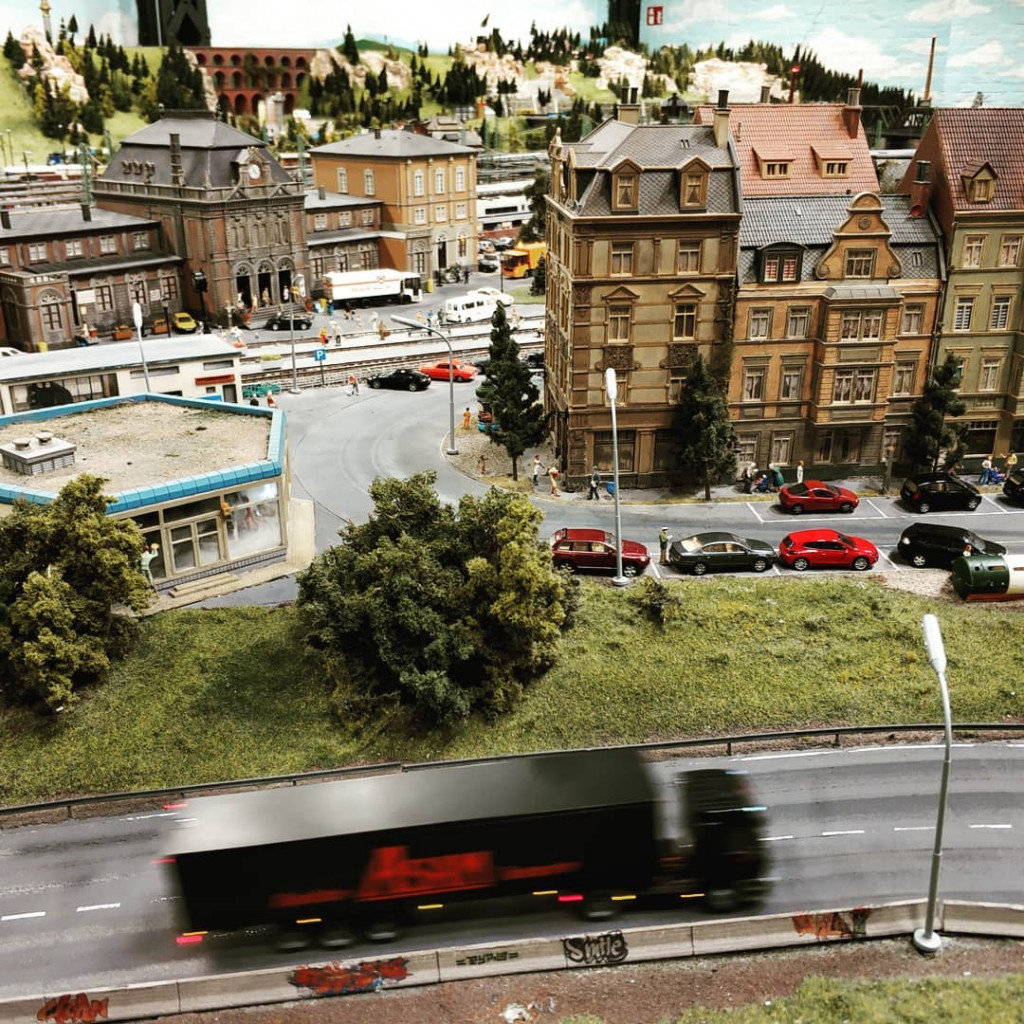 Old Elbe Tunnel
Opened in 1911, this 426-meter tunnel changed the life of Hamburg port workers who used to have to travel by river from its right bank to the left. The northern entrance to the tunnel is located near Landungsbrücke station, the bright green domed roof of which is hard to miss.
As you can see, if you find Hamburg in your cruise itinerary, you can get a brilliant opportunity to spend an interesting, informative, and fun time!