Corfu (Kerkyra) cruise port alongside Athens (Piraeus) is one of the most significant ports of call not only in Greece but in Europe as well in terms of passenger traffic. This island located in close proximity to the West coast of Greece, in the Ionian Sea, in front of the Southern Albania coast is just 40 miles long and 20 miles wide. And yet its comparatively moderate size does not prevent Corfu (with its Kerkyra old town) from being the main attraction of all the Mediterranean cruise itineraries.
Where Cruise Ships Dock in Kerkyra (Corfu) Cruise Port
Annually Corfu cruise port (or Kerkyra cruise port as it is called in Greek) receives more than 450 cruise ships with over 650 000 passengers. Neo Limani (or the new port) is the place where cruise ships visiting Corfu cruise port usually dock. It is very conveniently located as you won't need to spend much time getting to the main landmarks of Kerkyra after leaving your cruise ship. Free shuttles are available at the port and are always ready to take you to the entrance of the Corfu passenger terminal. However, it is quite reasonable to go on foot, as it takes 5-10 minutes depending on the place of your ship's docking.
The distance from the Kerkyra cruise port entrance to the old town of Corfu is approximately 3 kilometers and can be easily covered within 20 minutes (all you need is to turn to the left from the entrance of the cruise terminal and go straight along the sea coast all the time). The bus routes you need in case you don't want to walk are 16 or 17, both of them stop at the cruise port parking lot and cost about 2 euros. Taxi is also available, the trip costs from 10 euros and it makes sense to use it if there are 3 or 4 of you.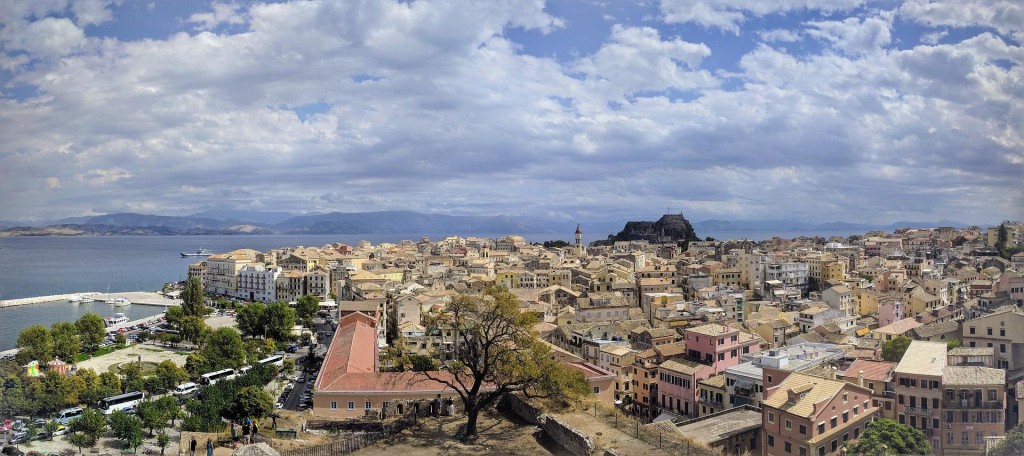 Kerkyra (Corfu) Cruise Port Hacks
There are two main bus lines in Corfu (Kerkyra) city, the blue bus line and the green bus line. It is a very convenient classification as blue line buses run inside the city of Corfu and its outskirts, whereas green line buses are intended for the Corfu (Kerkyra) suburbs. The bus line service here is very well organized and can deliver you from Kerkyra to the most significant and popular destinations such as Paleokastritsa, Kavos, Ipsos, Kassiopi, and many others). In case you are going to use buses inside the city more than 2 times during your stay at Kerkyra it makes sense to buy a single day ticket which will allow you to use the buses within this day for just 5 euros. For more information please consult https://www.astikoktelkerkyras.gr/indexeg.php
It is also very convenient to explore Corfu using popular hop-on-hop-off buses. One daily ticket allows you to visit the main city's attractions accompanied by an 8-language audio guide without losing your precious time. The price starts from 19 euros. For more information please, consult https://city-sightseeing.com/en/44/corfu
Taxi service is also available and well-developed on Corfu Island. And yet, we recommend that you should bargain with taxi drivers as they deliberately can increase prices very often hoping for your unawareness. If you would like to use taxi service in the cruise port to get to the city center you should follow to the end of the parking lot as the first cars in the line are intended for those passengers who are willing to order long-lasting taxi tours around the city and its suburbs. You can also rent a car or a bicycle in Kerkyra as well as in its suburbs.
How to Get to Kerkyra Cruise Port from Corfu Airport
It is very convenient if Corfu (Kerkyra) cruise port is the departure or embarkation port on your itinerary as the distance between the city of Corfu and Corfu international airport amounts to not more than 5 kilometers. The fastest way to cover the distance is, of course, a taxi which costs 15-20 euros. If you want to save money you can use a bus which costs 1.5 euros (bus line No.15) which will take you from the Corfu airport to the Corfu city center (bus stop San Rocco). You can buy tickets right at the bus from the driver, but in this case, you have to pay in cash.
What to See in Kerkyra (Corfu) Cruise Port?
Corfu (Kerkyra) old town is included in the list of UNESCO World Heritage and undoubtedly deserves visiting. In fact, Kerkyra represents one of the most attractive, romantic, and amazing cities not only on the Greek Islands but all over entire Greece. It can boast an impressive number of landmarks such as museums, fortresses, monuments, and temples.
The old town of Corfu built between two fortresses (the Old and the New ones of the 15th and 19th centuries respectively) represents a unique mixture of Venetian, Sicilian, French, and British architectural styles (as these countries used to dominate this island within various periods of its history).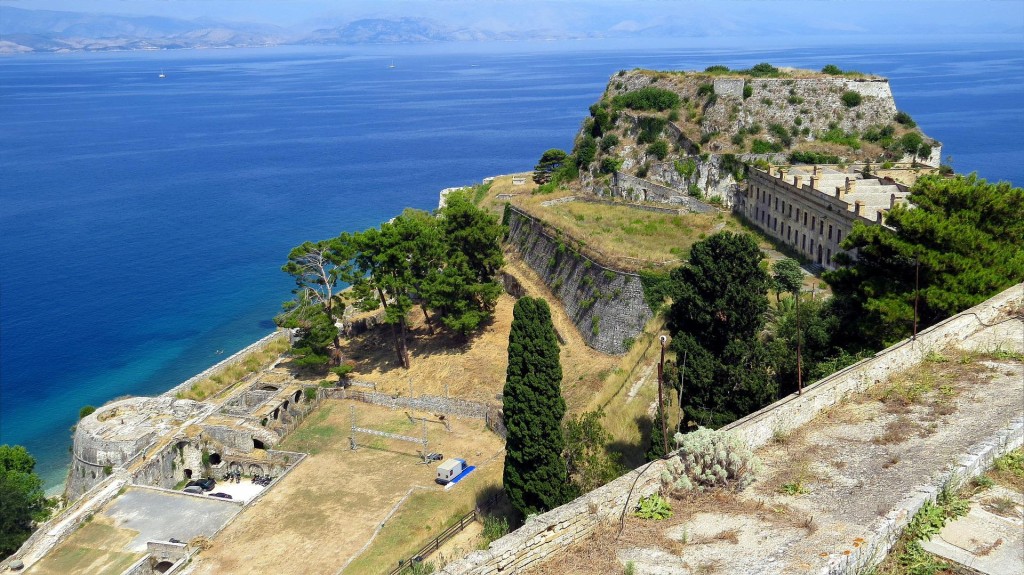 Spianada, one of the largest and most remarkable squares in Greece located opposite the Corfu old fortress, with its elegant palace of Saint Michael and Saint George is the first that every tourist faces having entered the old town.
Achilleion Palace is located 10 kilometers from Corfu town, in the picturesque Gastouri village. The view from this location to the city is breathtaking. If you have enough time don't hesitate to visit this amazing Corfu landmark.
Mon Repos Palace and Museum is located in the southern part of Corfu city, 2 kilometers far from the old town, in the Paleopolis forest. You can easily reach it on foot walking and enjoying the views or catch the bus route 2A departing from Spianada square every 20 minutes.
Pontikonisi or the famous Mouse Island is very well known far beyond Greece. The unusual name is directly connected with its tiny size. It is located close to the Kanoni Cape (5 kilometers south of the center of Corfu) which is crowned by the amazing Monastery Vlacherna. Kanoni Cape is the place where you can find the shortest airstrip in Europe. It is an unforgettable experience when you can almost literally touch the landing aircraft!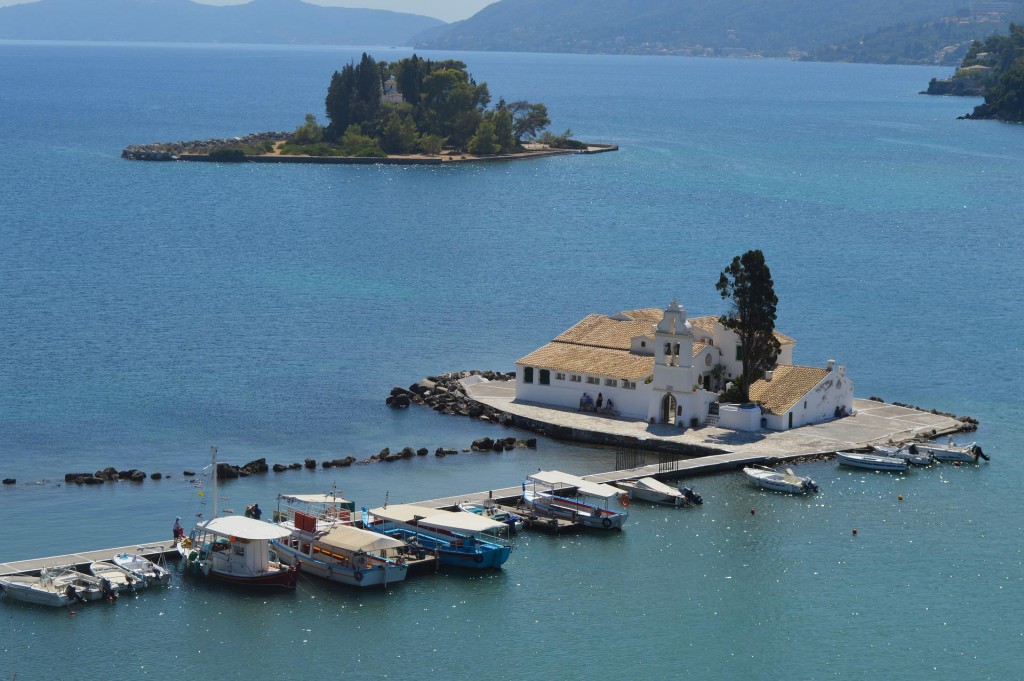 Shopping in Corfu
Visiting such a jewel of the Greek Islands as Kerkyra (Corfu) you will be likely to take with you a small part of it to recall your wonderful journey at home. There are numerous shops and souvenir stores in the center of Corfu ready to offer you amazing unusual products which you can not buy anywhere else. Marble carvings for your interior, olive wood kitchen items, popular nourishing olive oil soap perfectly suiting for washing face and body, stylish leather sandals, colorful ceramics, "komboloi" worry beads, "mati" the Greek eye amulet against the evil eye, tasty coffee products, dried herbs, amber-color natural honey, unique kumquat products, shaggy wool rugs, and, of course, an alcoholic drink, ouzo. But you should remember that you can take only one duty-free liter per person. Besides, according to the rules of most cruise lines, you won't be able to drink it on board (concerning alcohol on a cruise and how to take it on board please read here).
Where to Swim in Kerkyra (Corfu) Cruise Port?
Although there is an opportunity to swim right near the Corfu (Kerkyra) cruise port still it will be better to go a little bit farther to find beautiful and well-equipped beaches such as Paleokastritsa beaches, Glyfada sandy beach with convenient entrance suiting those who travel with children, Agios Gordios, and many others. Dassia beach deserves particular attention because in addition to its turquoise clear water, the shade of trees, relaxing atmosphere, and outstanding equipment it can offer you various water activities which will fill your day spent in Corfu cruise port with unforgettable impressions! Most Corfu beaches are marked with the so-called Blue flag which confirms the outstanding clearness of their water.