Welcome to Santorini, the real jewel of the Cyclades located in the Southern Aegean Sea and originated as a result of a volcano eruption. Santorini cruise port is located in Fira (the heart of Caldera Cliffs) and represents one of the most romantic places and most popular ports of call. This brief Santorini cruise port guide will get you acquainted with it.
Where Cruise Ships Dock at Santorini
Although it does not have any facilities for cruise ships to dock at all, the old port of Fira annually receives an impressive number of them. The quay of the old port can receive only moderate size ferries, thus only tender debarkation of passengers is available at Santorini cruise port. All the cruise ships visiting Santorini anchor approximately a kilometer from the island, and the passengers get to the island by tender boats.
On arrival at Santorini cruise port, you can use the following ways to get to the main sights and small villages to get acquainted with this unusual but attractive and picturesque island.
Funicular
A cable car (or funicular) is considered by tourists the most convenient and fastest way to get from the port of Fira upstairs. And yet, during a peak season (May - September) Santorini cruise port can host up to five cruise ships a day as a result of which there can be significant lines of people waiting for their turn to get upstairs. Besides, this way of transportation will not fit those who suffer from claustrophobia or fear of heights.
Santorini Animal Transport
Donkeys and mules represent a comparatively exotic and unusual way to get upstairs from the bottom of Santorini island. These animals (used for many centuries as the most reliable means of transportation of goods and people) will take you to the higher point of the island and back for a fee amounting to 8-10 euros. And yet, it can be rather inconvenient for you, besides, the lines of the tourists can also take place as with cable cars described above.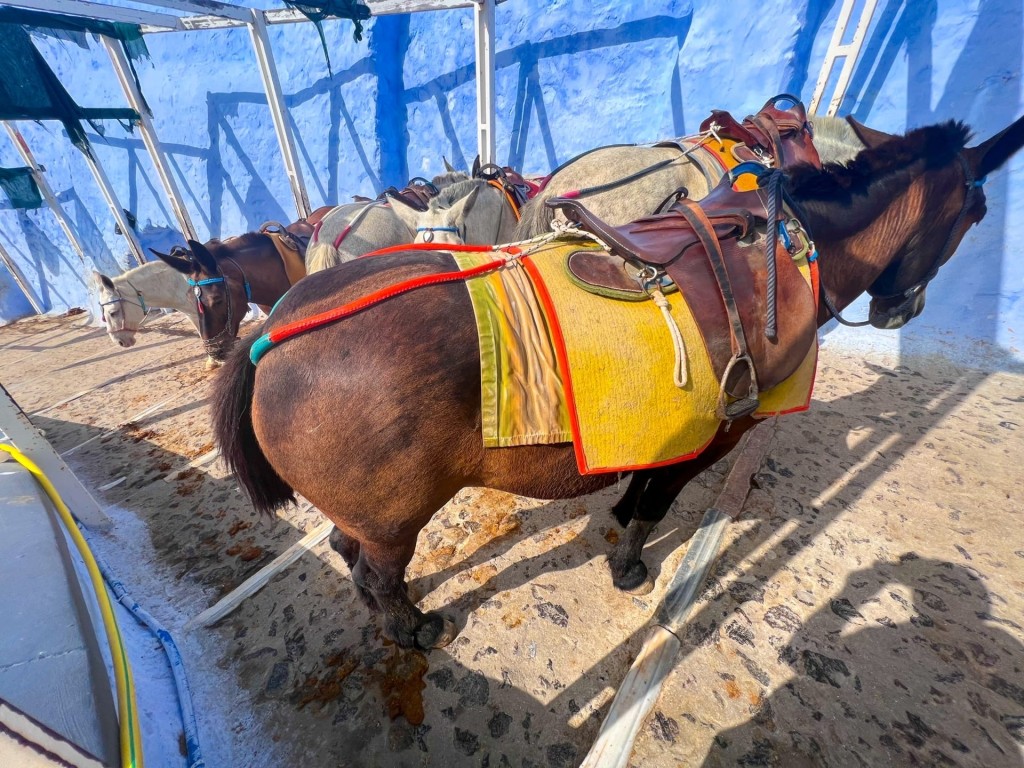 The hack that some resourceful tourists have found is as follows. To avoid waiting for your turn under the burning sun in the line thereby losing precious limited time, you can walk a little bit along the donkey path. Soon, behind the nearest turn of the path, you are likely to meet the animals from an unofficial competing "transportation company" and be the first to reach the goal. And yet, there is a risk of not meeting them.
On Foot
This way is available only for those with outstanding physical condition (covering about 600 meters upstairs under the burning sun is not an easy task). Besides, if you are squeamish, the idea of hiking is not excellent as accompanied by mules or donkeys you can easily find yourself at risk of staining your clothes and shoes. Well, suppose you are not scared by the above-mentioned details and decided to experience this heroic ascent. In that case, we recommend that you take with you a big bottle of water to drink enough during your trip.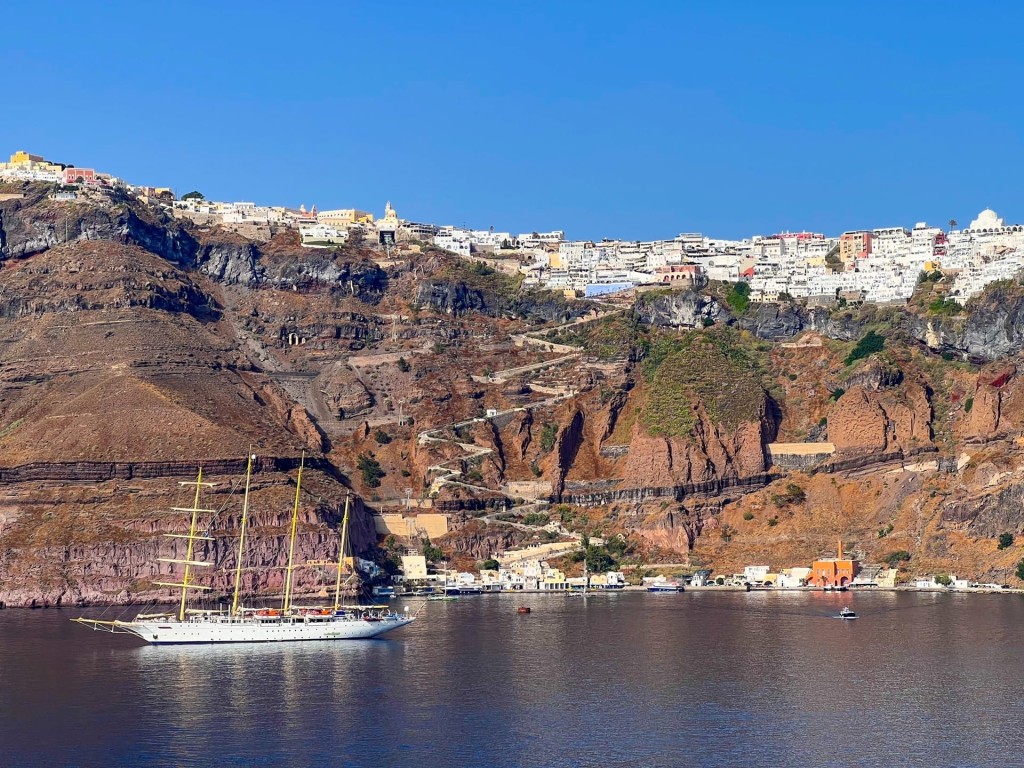 Boats Transfer
Ordering a speed boat transfer from Fira to Oia is an excellent option. You can find the boats not far from the cable car when disembarking. The cost of the round trip starts from 20 euros.
Guided Tours
It is not a secret that tourists who buy excursions sold by cruise lines have a priority to use tender boats. Besides speaking of a specific Santorini cruise port it would be much more convenient to explore the island and its attractions as a part of an excursion group. As a result, you will save time, money, and nerve by avoiding lines and unpleasant surprises.
What to Do at Santorini Cruise Port
Of course, this iconic island differs from other places you have ever visited. For instance, you won't find long straight avenues, like in Barcelona, magnificent cathedrals and churches, like in Italian ports, and large-scaled ruins of impressive ancient temples which you can see in Athens. And yet, the photo taken in the background of the cozy scenic white towns and quaint houses colored white and blue (the national flag's colors) will cause your delight every time you look at the photo.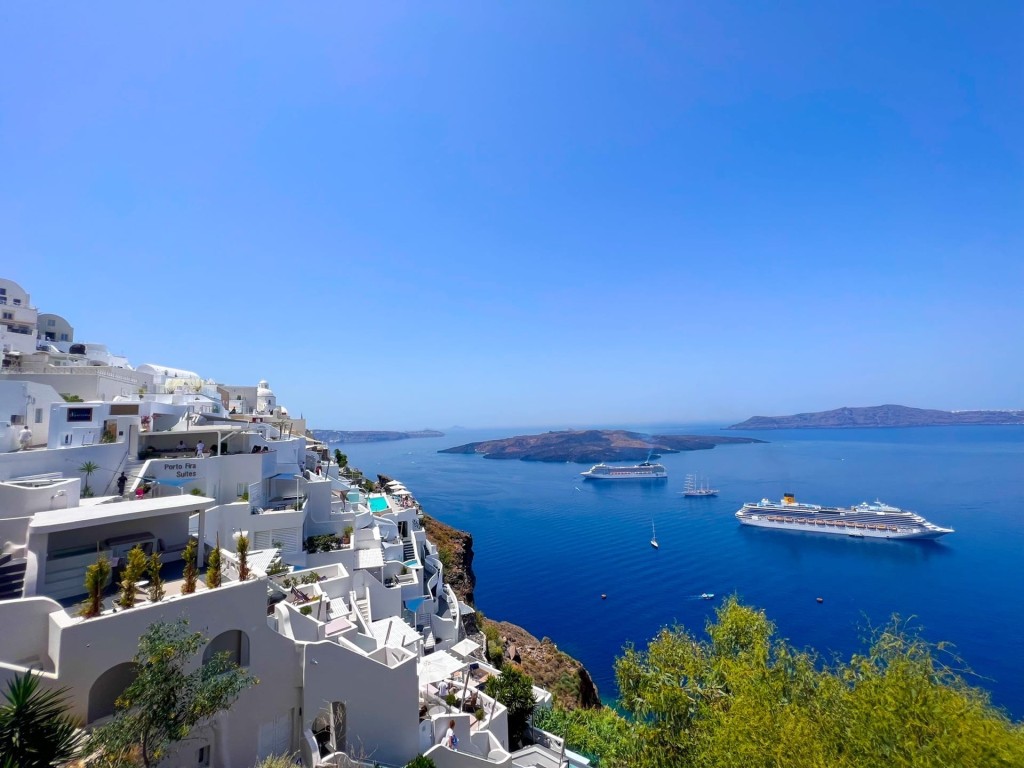 Exploring Fira
Fira represents the tiny capital of Santorini island. Despite its moderate size, it has a lot to offer the tourists. Magnificent breathtaking views, small ancient churches, archaeological museums demonstrating ancient artifacts, and narrow streets with beautiful white houses that can not be seen anywhere else.
Santorini Towns
Santorini island consists of numerous tiny towns (or better say villages). In addition to Fira, the first place you should visit is Oia, of course. It represents a luxurious town with outstanding shopping and good restaurants visiting which you can fully feel the unique atmosphere of Santorini. Located at the Caldera side, it is Fira and Oia, alongside Firostefani, and Imerovigli which make Santorini so special and attractive. So, if you manage to visit them (or at least, Fira and Oia) you will get a sense of Santorini. And yet, such towns as Akrotiri, Kamari, Megalochori, Pyrgos, and others are worth seeing as well.
Santorini Volcano (Nea Kameni Island)
The origin of the Santorini islands is volcanic, and this fact is the most exciting about it. Having Santorini on your itinerary, don't miss an opportunity to visit Nea Kameni Island, the heart of the Santorini extinct volcano. It is easy to get to the island from almost all the ports of Santorini. Daily regular boat tours are organized from Fira, Oia, Athinios Ferry Port, and Vlychada.
Tasting Delicious Wines and Food
Alongside its snow-white houses, Santorini is known worldwide as a heaven for food and wine lovers. Here you can taste exquisite wines (Assyrtiko, Nychteri, Vinsanto, and many others) from more than 20 wineries located on the island, and delicious "representatives" of Santorini national cuisine, such as fava, saganaki, kofta, moussaka, and roasted Greek lamb. Various wine tours are rather popular among tourists who visit Santorini.
Where to Swim at Santorini
Due to its volcanic origin, Santorini can boast not only the ordinary yellow color of the sand but also white, black, and red. The two most popular beaches are Kamari (the mixture of volcanic sand and dark shingle) and Perissa, a quiet beach having a convenient entrance to the sea and surrounded by rocks protecting it from the wind.