Trieste cruise port is located in the north-eastern Adriatic, in the very heart of beautiful Trieste. It represents the Maritime station and can be called one of Italy's most important cruise terminals for international cruise lines and local ferry lines. Despite the fact that during the times of the Austro-Hungarian Empire, Trieste was not Italian, it always served as a significant regional port city. So, let us get you acquainted with it!
Where do cruise ships dock in Trieste Cruise Port?
Trieste cruise port is conveniently located right near the main square of Trieste, the famous Piazza Unità d'Italia. Unlike other European ports of call having more than one terminal and a significant distance between them and making you use additional means of transportation to get to the nearest bus station or simply to move between the terminals, the Trieste cruise port has a pier on the Gulf of Trieste allowing 2 cruise ships dock simultaneously on its both sides. Having left their ships, the only thing the passengers have to do is to come along a passage, cross the road, and, voila, they are already in the center of Trieste with all its attractions and sights!
How to Get to Trieste Cruise Port from Trieste Airport?
The easiest way to get to the cruise port of Trieste from the Trieste airport (Ronchi Dei Legionari) is by bus 51 (the cost of the one-way ticket is 3 EUR). It is the best and the most reliable way to overcome the distance of nearly 30 kilometers. The bus departs every 30 minutes and takes you from the airport to the railway station of Trieste which is situated close to the Trieste cruise port (about 1 kilometer). On your way, you will be able to enjoy scenic views of neighboring suburbs and small towns such as Monfalcone, Duino, and Santa Croce as well as the famous Adriatic coast with its gems like Miramare Castle and numerous beaches. The trip will take you about one hour. And yet, the airport of Trieste is not very popular and the number of flights it receives daily is quite moderate, that is why in some cases, it is worth considering the flights to other cities in Italy when planning your cruise.
How to Get to Trieste Cruise Port from Venice?
If you arrive in Venice you can get to Trieste by train. It is the most convenient way, besides, the cost of the ticket starts from 9 EUR (if you buy it in advance on www.trenitalia.com). The best and the most affordable way to get from Marco Polo airport of Venice to the Mestre Train station is by bus which departs every 30 minutes and is available all day long. The travel time is equal to approximately 20 minutes. Of course, if you don't have enough time to wait for the bus, taxi services are also available. The travel time from Venice to Trieste is approximately 2 hours. Nowadays most cruise lines can offer you special shuttles which can deliver you from the Venice airport right to the cruise port of Trieste. During this 2-hours trip, you can get briefly acquainted with picturesque landscapes and colorful Italian towns from the shuttle window.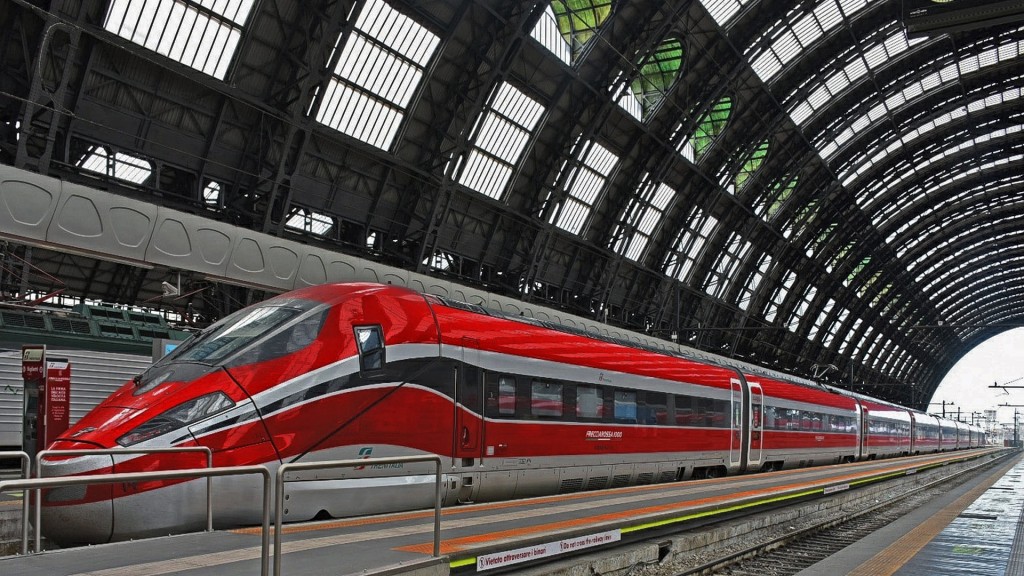 How to Get to Trieste Cruise Port from Milan?
If the airport of your arrival is located in Milan, the best way to get to the cruise port of Trieste is by train. No matter what airport you arrive at (Malpensa, Linate, or Bergamo), all the trains from Milan to Trieste cruise port depart from the central railway station of Milan. For instance, you can get from Malpensa airport to Milan central station by train which takes an hour and costs 13 EUR. If you arrive at the Linate airport and do not have enough time you can get to Milano Centrale Station by taxi which will cost you up to 40 EUR and will take not more than 10 minutes, or by bus which will save you money. If Bergamo is the airport of your arrival, the bus is the only way to get to Milan Central Station. The travel time will take about 1,5 hours.
What to See in Cruise Port Trieste?
Trieste is rightfully considered a real open-air museum. So if your cruise trip schedule does not allow you to spend much time there you can simply walk along the streets enjoying the architecture representing a unique combination of Italian and Austro-Hungarian styles. Having an opportunity to spend more time in Trieste you are lucky as you can get acquainted with its numerous sights, some of which are mentioned below.
Piazza dell Unità (Piazza Grande)
This majestic square is the first attraction that you can see right after leaving your cruise ship. With its palaces (Palazzo Stratti, Palazzo del Governo, Palazzo Modello, etc), the square is the most prominent landmark of the most famous city of the former Austro-Hungarian Empire having kept its unique spirit ever since. Overlooking the Adriatic Sea this square is rightfully considered the largest square in Europe located right on the very sea coast.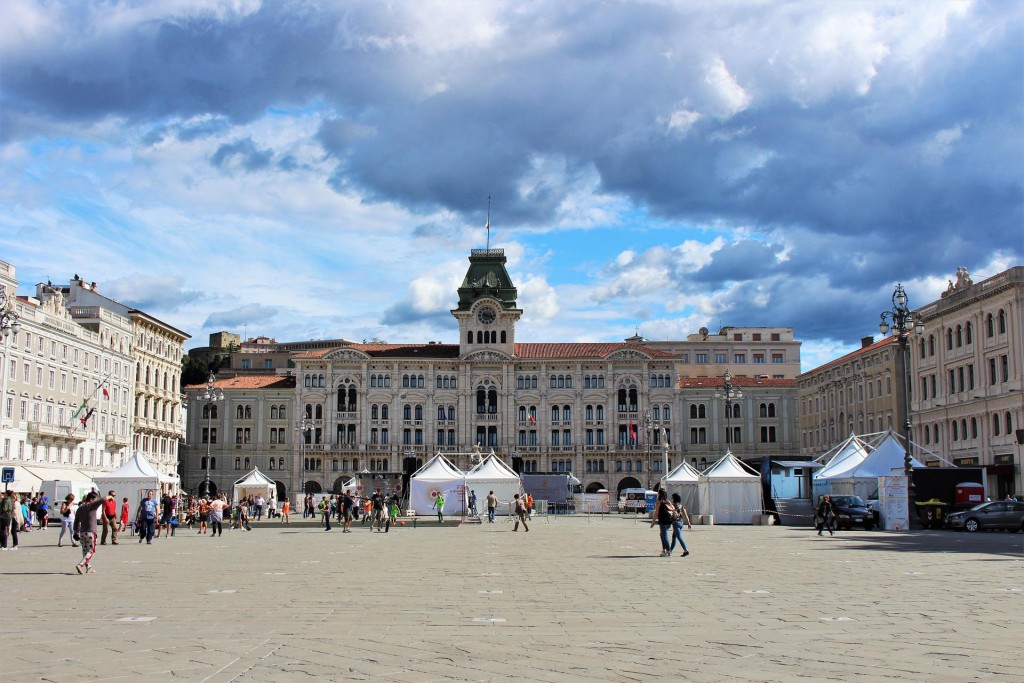 Canale Grande and San Spiridione
Not far from Piazza, a long harbor called Canale Grande is located. Earlier it was used for ships but nowadays it is intended only for smaller boats. It is a popular place for the city dwellers and tourists because you can walk across both sides of the canal, relax while sitting in small cafes, and enjoy the atmosphere of Trieste as the famous writer James Joyce used to do when he lived in Trieste and was inspired by it. In close proximity to it, right from the main square, you can find the Serbian Orthodox Church of San Spiridione famous for its frescoes, paintings, and unique Russian icons.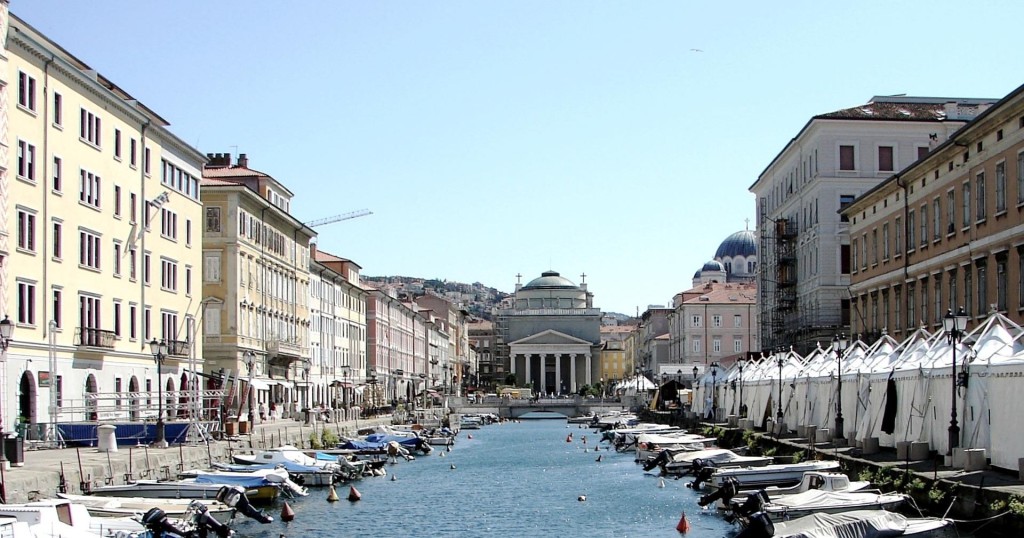 Miramare Castle (Castello Miramare)
Located not far from the Trieste cruise port, this amazing castle looks as if it appeared from a fairy tale, deserves special attention, and is undoubtedly worth visiting. Built in the 1860-s in Scottish medieval style, it represents a real architectural masterpiece and reflects the past Austro-Hungarian epoch. The majestic castle overlooks the sea and is surrounded by a wonderful park containing numerous beautiful and rare trees. The 19-century refined interiors including furniture and decorations have been very well preserved in the castle allowing you to feel the atmosphere of the past. Don't miss an opportunity to visit this miracle!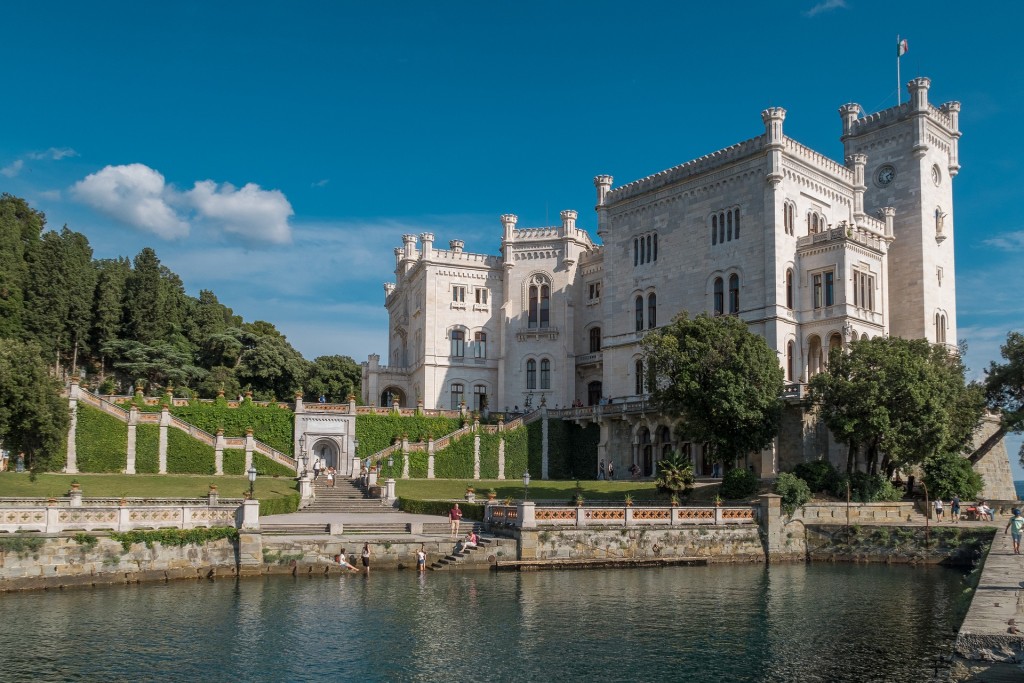 Where to Swim in Trieste Cruise Port?
The cruise port of Trieste is located on the Adriatic Sea which is considered one of the cleanest seas in the Mediterranean. That is why if you have enough time in Trieste during your cruise trip you will be likely to desire to swim in its turquoise-emerald waves. Trieste can boast numerous well-equipped and completely natural beaches suiting any taste. One of the most popular and the nearest beaches to the port is Miramare beach located in close proximity to the snow-white architectural eponymous masterpiece mentioned above allowing you to combine your visit to Miramare Castle with its park and swimming nearby. Also, such beautiful beaches as Barcola, Ausonia, I Topolini, and Bagni Comunali Lanterna should be paid attention to. Of course, this list is far from being complete and ideally deserves a separate review.
Trieste Cruise Port Summary
It is the shortest list of sights that you can visit having Trieste cruise port on your itinerary. It is simply impossible to include all the attractions of one of the most breathtaking and unusual cities in Italy! Besides, if Trieste is the first or the last port of call on your cruise we recommend that you should arrive there at least 2 days in advance or vice versa stay there longer before departure to visit neighboring Slovenia with its amazing capital Ljubljana, known as the city of dragons and the Green Capital of Europe.